It's Christmas day and I'm taking a break from the seriousness of my upcoming January 3rd post. I thought I might post the picture story of the first half of Sam's and my escape from Belize and my eventual arrival in the States. It's visually interesting and it is mostly a happy story – in line with most Christmas stories.
I'll start with our arrival, undercover, in Belize City a few days prior to our departure on our exit adventure. We had been in hiding for a couple of weeks, living in less than desirable conditions. Sam was eaten alive by bugs and was happy to reach a place with hot water and comfort, as was I: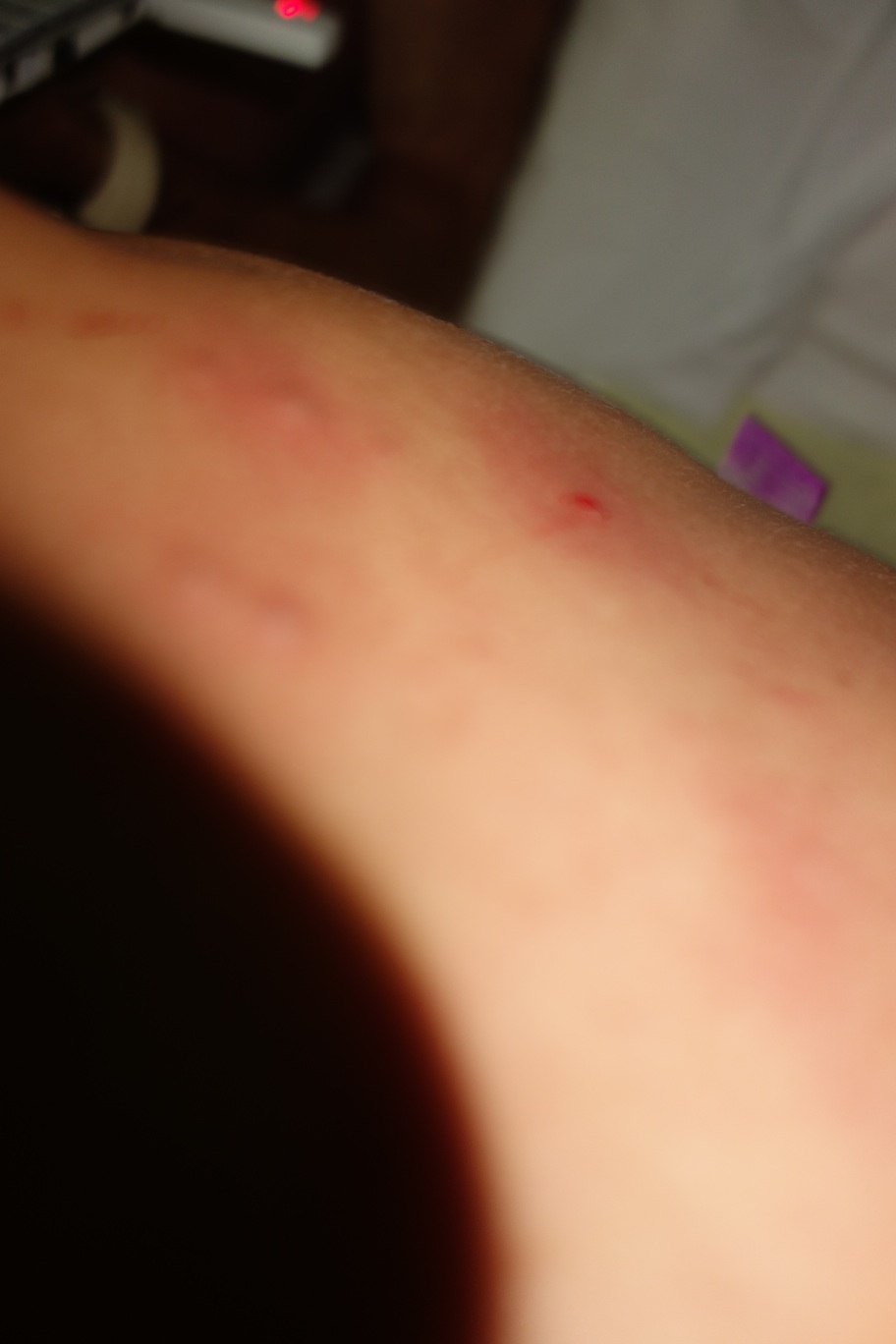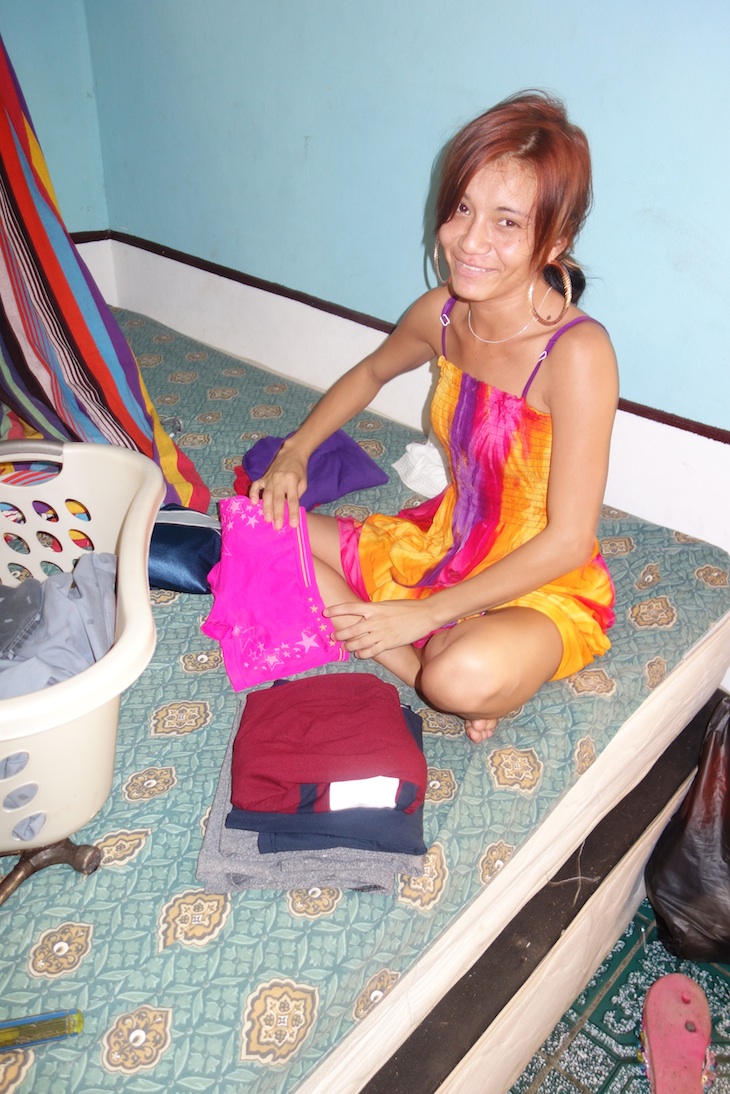 Our plan was simple:
Multiple checkpoints had been set up along every highway exiting Belize and all of the border crossings and seaports had been beefed up with police and Belize Defense Force personnel. Air travel was impossible since the few existing airports had beefed up security staff armed with our photos and names.
I chose a few very simple social engineering tricks to effect our escape. Social engineering is the art of predicting people's behavior based on given stimuli. It is the method of choice for modern computer hackers wishing to gain access to sensitive data. Cracking a computer system's security electronically, for example, can be difficult. Tricking a secretary or systems manager into simply given you the access is simple. It requires only a cute young man, or sexy woman, or a correct role playing scenario, a little software and a little bit of time.
Social engineering can be applied to any problem, not just computer hacking problems. Distractions and decoys, for example, have been used for centuries as primitive social engineering tools.
We choose to take the Southern Highway to a town at the far southern end of Belize called Punta Gorda. From there we had arranged to take a small fishing boat the thirty or so miles to a border town in Guatemala called Livingston. The Southern highway, we knew, since we had friends driving the full length daily, had three checkpoints along its way. On the day we left we chose, as a decoy, a friend driving one of my high profile pickup trucks. He drove three miles ahead of us and was in constant communication with us. The truck's documentation was in my name and was with the truck, just in case they failed to identify the truck by sight. The plan was the following: If they stopped the truck I knew the checkpoint officers would be swarming all over it. Subsequent traffic would be likely to be waved on through. For a distraction, I arranged to have my double – a man I have known for over 30 years and who years ago legally changed his name to John McAfee – arrested in Mexico a hundred miles north of the Belizean border. We posted the arrest on the blog and within an hour of the posting radio stations in Belize were broadcasting the arrest. Advance teams reported a relaxing of checkpoint procedures on the Northern and Western Highways a couple of hours later.
But the above were our backup plans, in case our main plan failed. My main plan simply depended on rain. We chose a day to leave when the weather report predicted a near 100% chance of heavy rains for the full length of the Southern Highway. In Belize, no checkpoint officers will ever stop a car in the rain. In five years of residence I had never seen or heard of police, or the BDF, doing anything whatsoever in the rain, let alone standing in the middle of the road stopping cars. It rained all day with only intermittent stops. Our first checkpoint passed without incident just a few moments after rain had stopped. As you can see, only one officer is outside of the car, leaning on the hood. The others were all huddled inside. All three checkpoints were passed in the same fashion. Neither the lead car (belonging to me), nor the car in which I was riding, were stopped.
Once the checkpoints had been passed, it remained only for us to negotiate our passage across the border into Guatemala.
For companionship, and to divert attention from eyes looking for two people travelling together, Sam and I had five other people in the van with us – the two intrepid Vice Magazine journalists, Amy, her boyfriend Keith and the driver of the van – a very old friend of mine: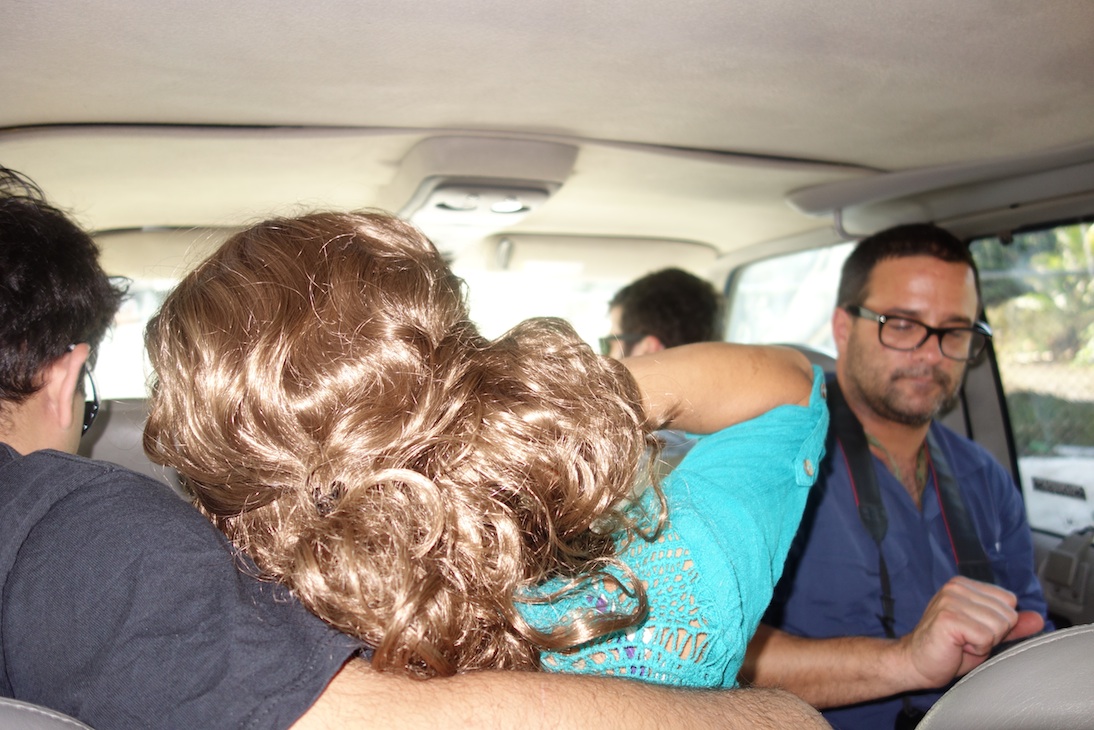 We arrived in Punta Gorda in the late afternoon, met up with the driver of the advance decoy truck, and stayed the night at Machaca Hill – all of us checking in under assumed names. Our plan was to take a small fishing boat from a private dock in Punta Gorda the following day and make a dash for Livingston – hoping that the Coast Guard had abandoned their southern waters vigil due to the report that I had been jailed in Mexico the previous day. Since we had a free night, everyone relaxed and enjoyed the jungle surroundings: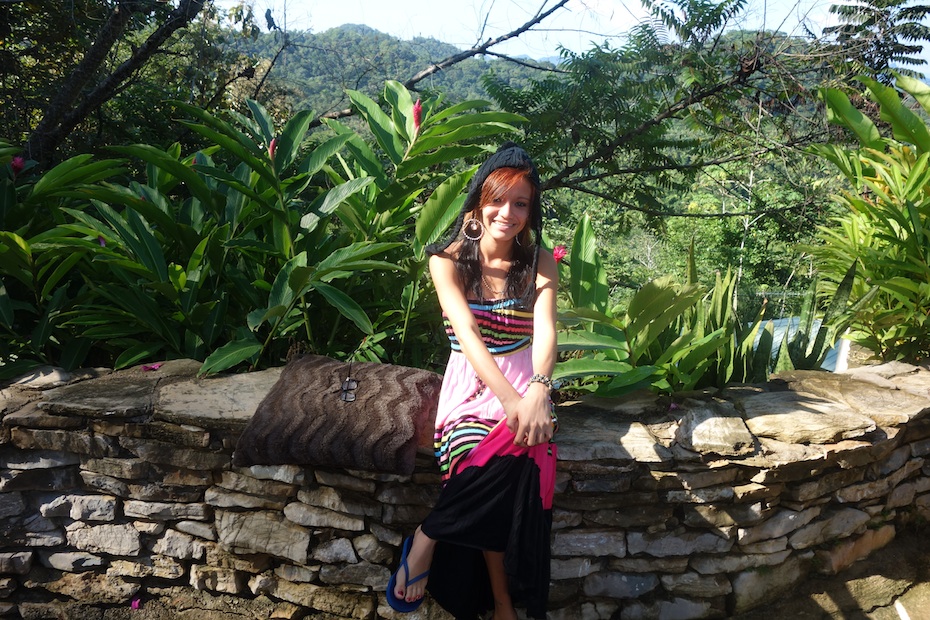 In the morning, we checked with some of our compatriots at the waterfront who had been out boating since sunrise trying to locate or lure any coast guard vessels. The Coast Guard was conspicuously absent. We made our way cautiously to the rendezvous where the boat captain was already waiting. We had considered doing the boat trip at night, but a boat in Punta Gorda running at night would be heard all along the beach, and people travelling by boat at night would be deemed suspicious. Sam, myself and the two journalists said goodbye to Amy, Keith and the two drivers and we quickly boarded the boat and pushed off.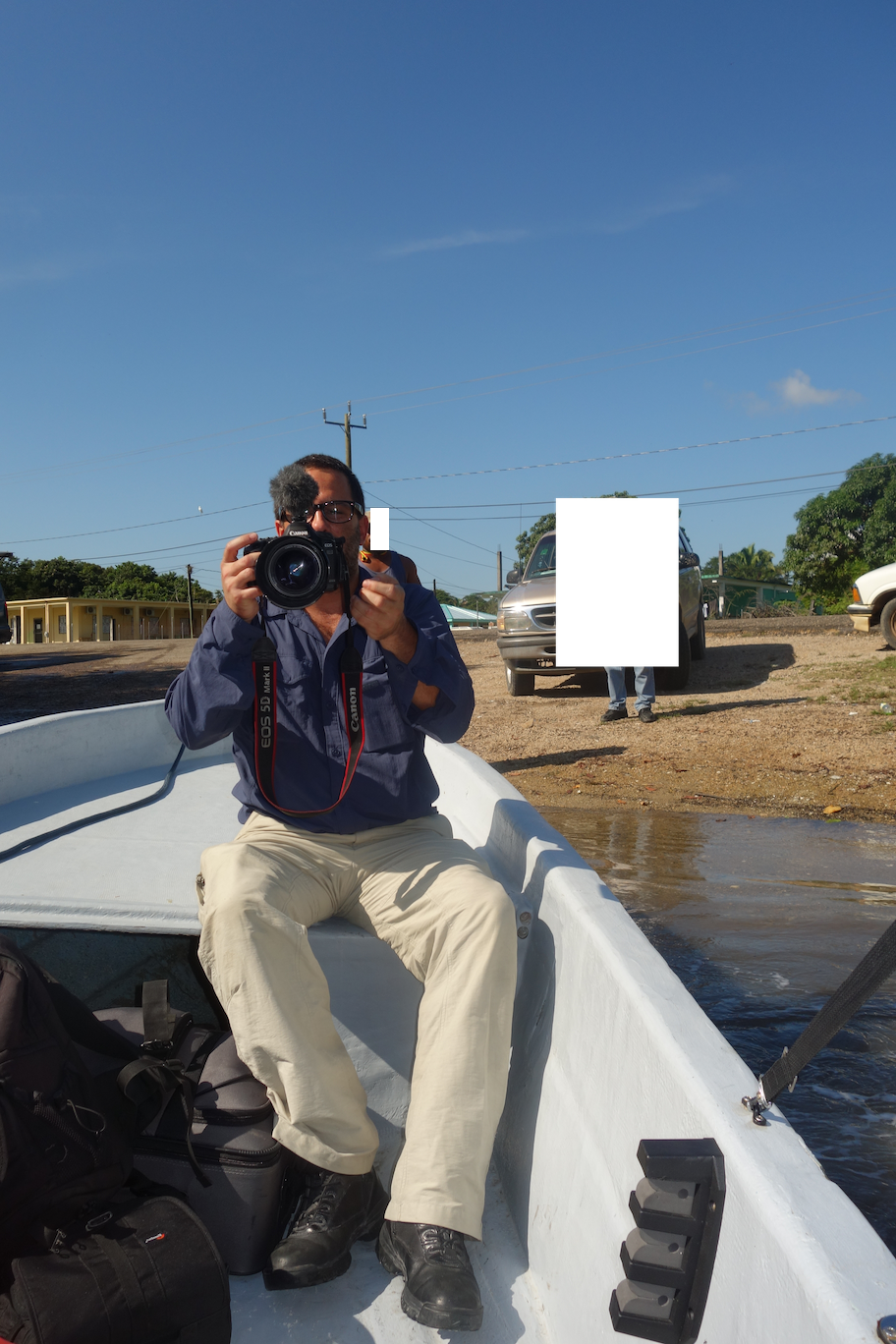 When we were a few miles off the coast we all relaxed. Sam turned cheerful: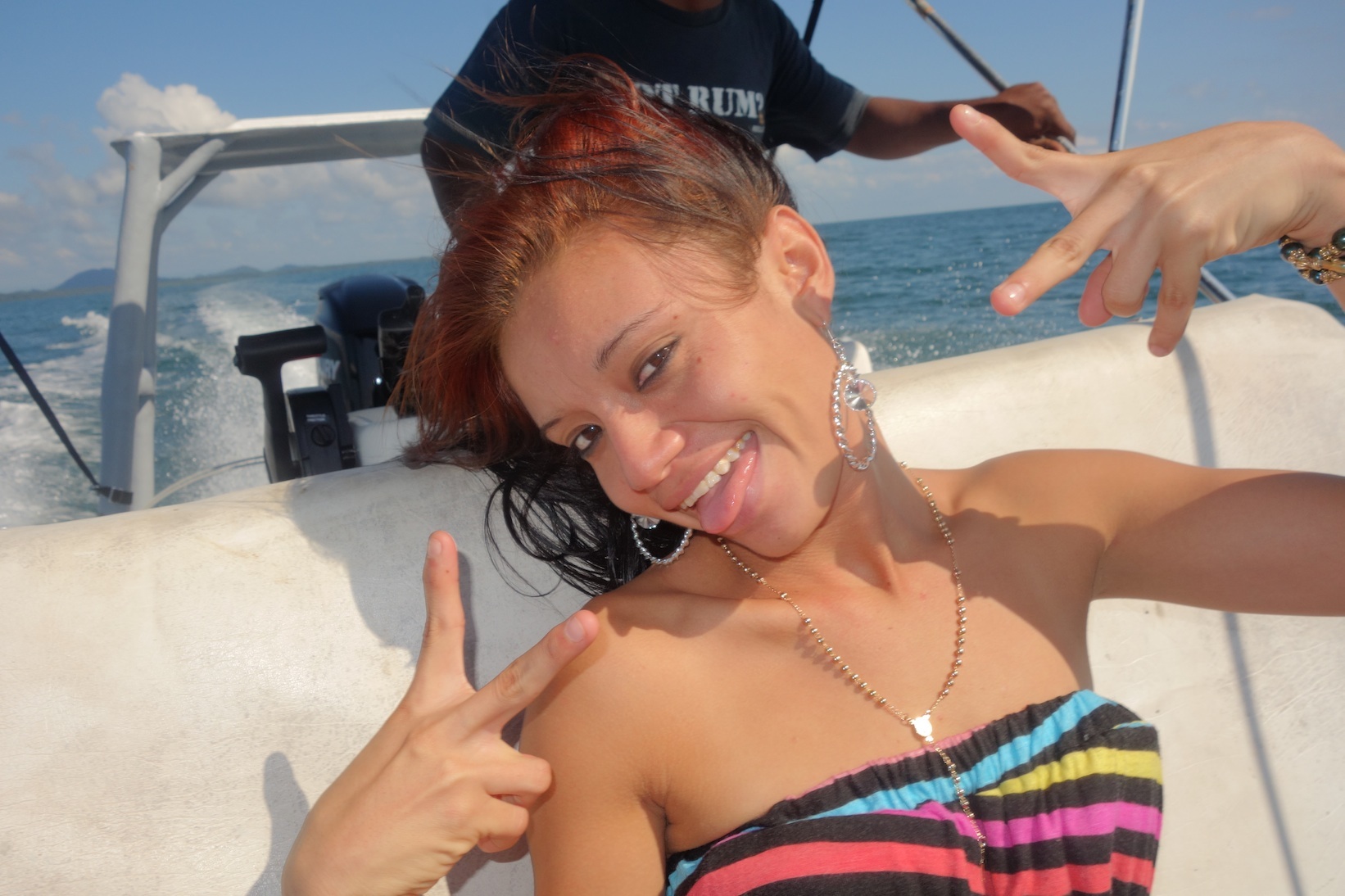 The two journalists went to work: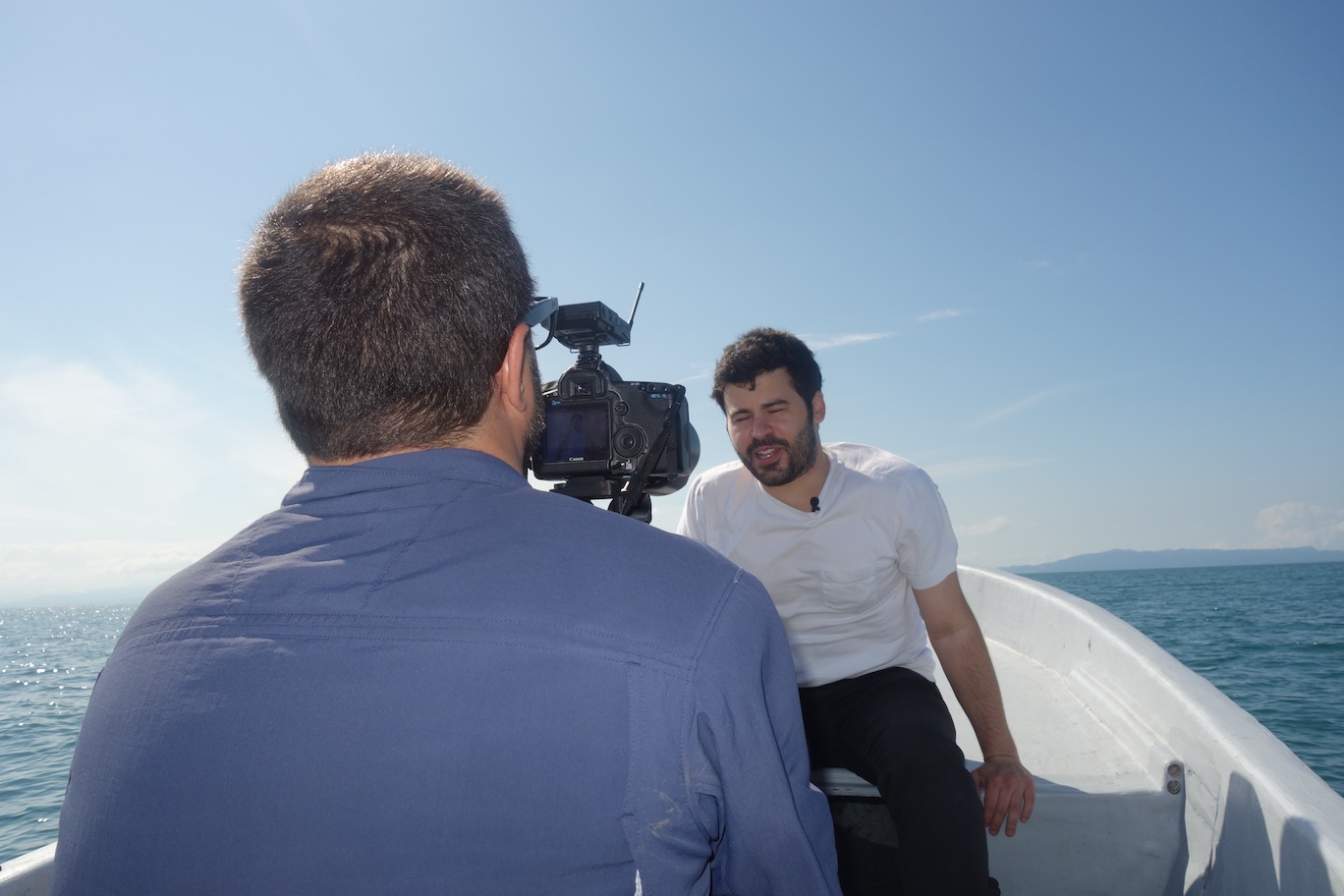 And a pod of dolphins showed up to share in the mood: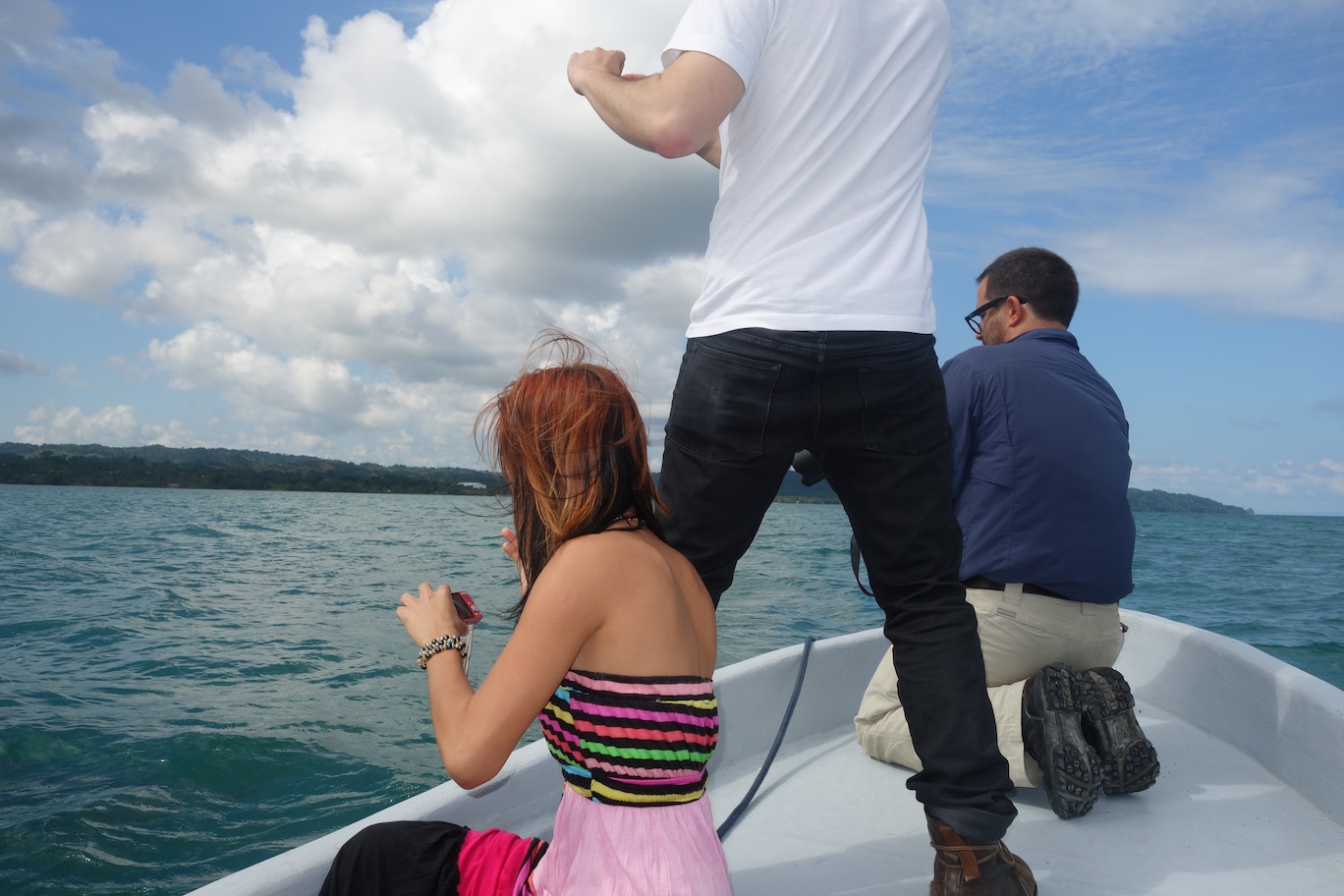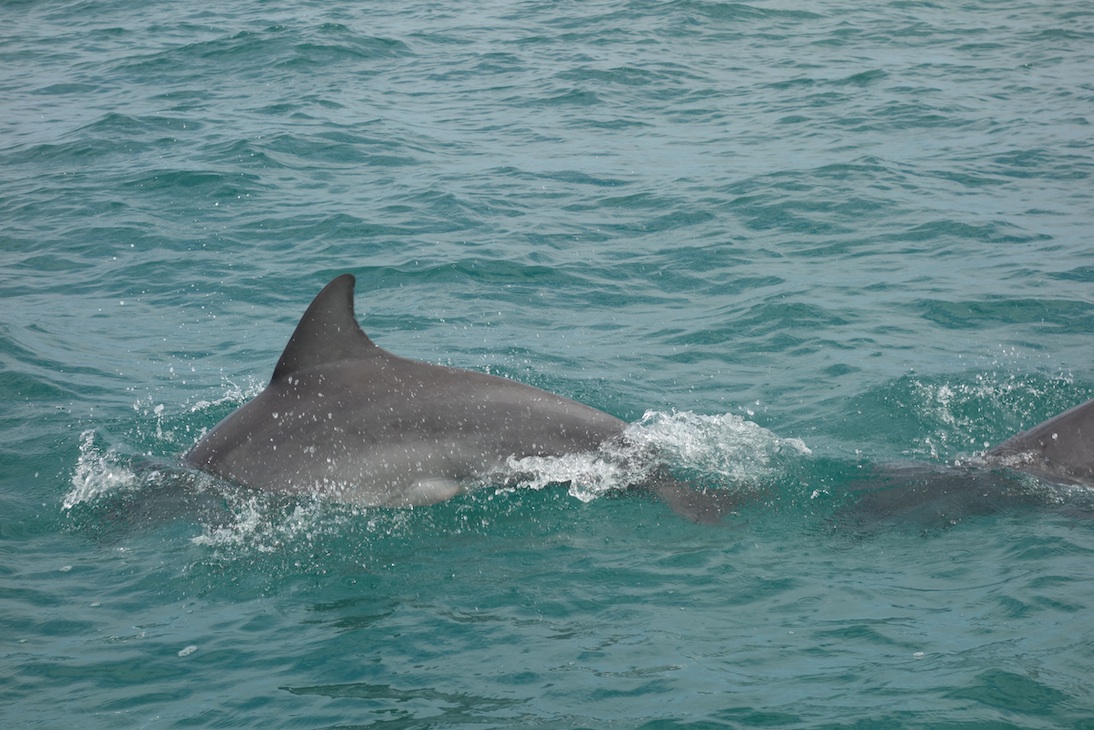 When we neared Livingston everyone breathed a sigh of relief: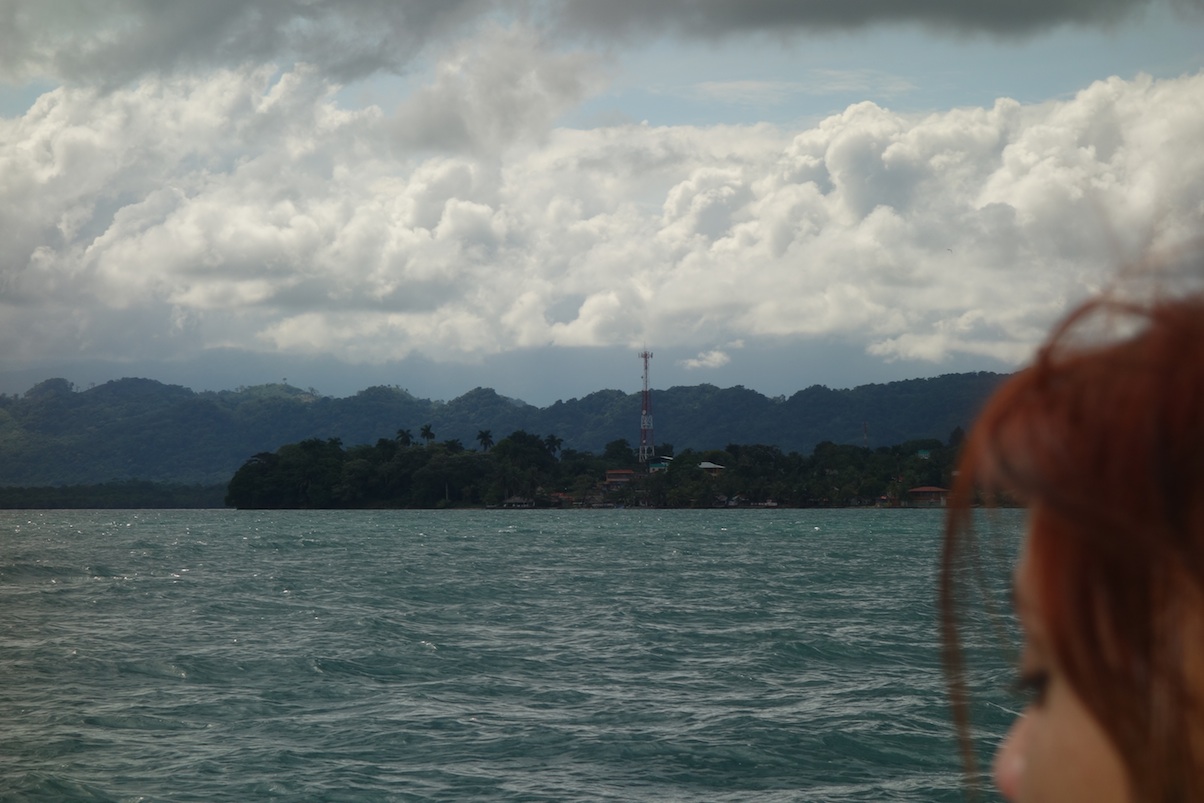 What lay ahead, I knew, were a number of serious problems, but they were of a legal immigration nature and involved our lack of an exit stamp from Belize and some forthcoming fraudulent moves by the Belizean government. This meant we could not get an entry stamp into Guatemala, and that I would certainly be arrested as a result of the Belizean machinations.
In any case, we had to enter Guatemala illegally. I knew that the Belizean Government had alerted Guatemala in case I showed up in their country, and I also knew that once the Belize Government found out that I had escaped Belize they would fraudulently attempt to involve Interpol in my retrieval (I knew this because the Belizen Police apparatus was one of the targets of my early "social engineering" experiments). The DPP's office did indeed contact an Interpol Officer the same day we were "outed" and falsely told the officer that there was a warrant for my arrest. This, of course, was untrue. Five days later, after Interpol had arrested me, they discovered that there were no charges and no warrants against me when they asked for copies and none could be produced. It's rumored that the Interpol officer in charge of Central American Operations went ballistic. Interpol withdrew from any involvement with my case. This left me with only my illegal entry into Guatemala to deal with.
Politics aided me in the above. The DPP (the chief Government Prosecutor in Belize) is the wife of Marco Vidal – head of the GSU. Since no small part of what has happened to me has been a personal vendetta of Mr. Vidal's, he enlisted his wife's help. However, the DPP could not press any charges that had not been forwarded by C.I.B – the prosecutorial arm of the Belizean police apparatus. C.I.B., in spite of frequent urgings by the DPP, would not issue charges. This did not prevent her from telling Interpol that there was a warrant for my arrest. Remember that Marco Vidal sent an email to Jeff Wise the morning after Mr. Faul's murder falsely saying that I was the prime suspect in the murder. Neither Mr. Vidal nor any of his people were involved in the investigation at the time, nor have they ever since been involved. It was yet one more fabrication created by Mr. Vidal. Mr. Wise, characteristically, never bothered to check the veracity of the email and published a story based on it. It took the San Pedro police department – who was the only department involved in the investigation – to alert the media that I was not a suspect in the murder.
I had anticipated all of this and planned ahead. I had hired the best lawyer in Guatemala (The prior Attorney General of Guatemala – Sam's uncle), who was waiting for our arrival in Guatemala City. We had to safely reach Guatemala City however. This is the important point to the above. I had planned to do that by travelling up the Rio Dulce to Fronteras, and from Fronteras take a bus or a car to Guatemala City. Once we left Livingston no one would know where we were.
In Livingston we bought supplies and briefly scoped out the town.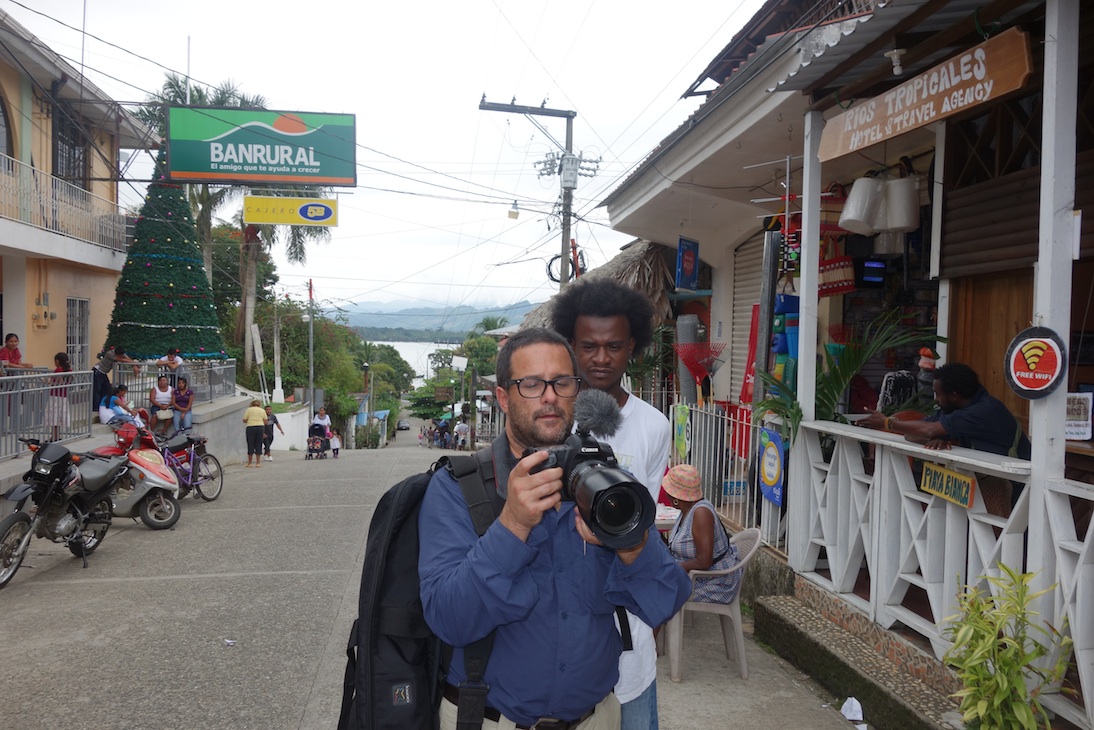 Then we hired a boat headed up river: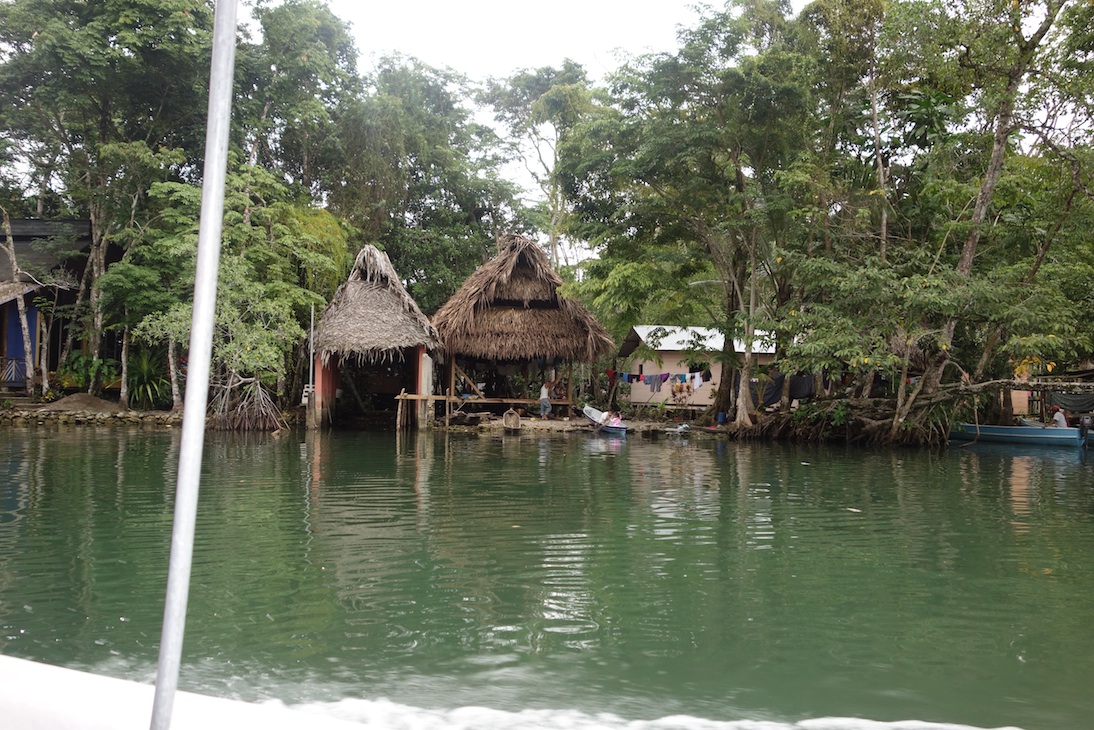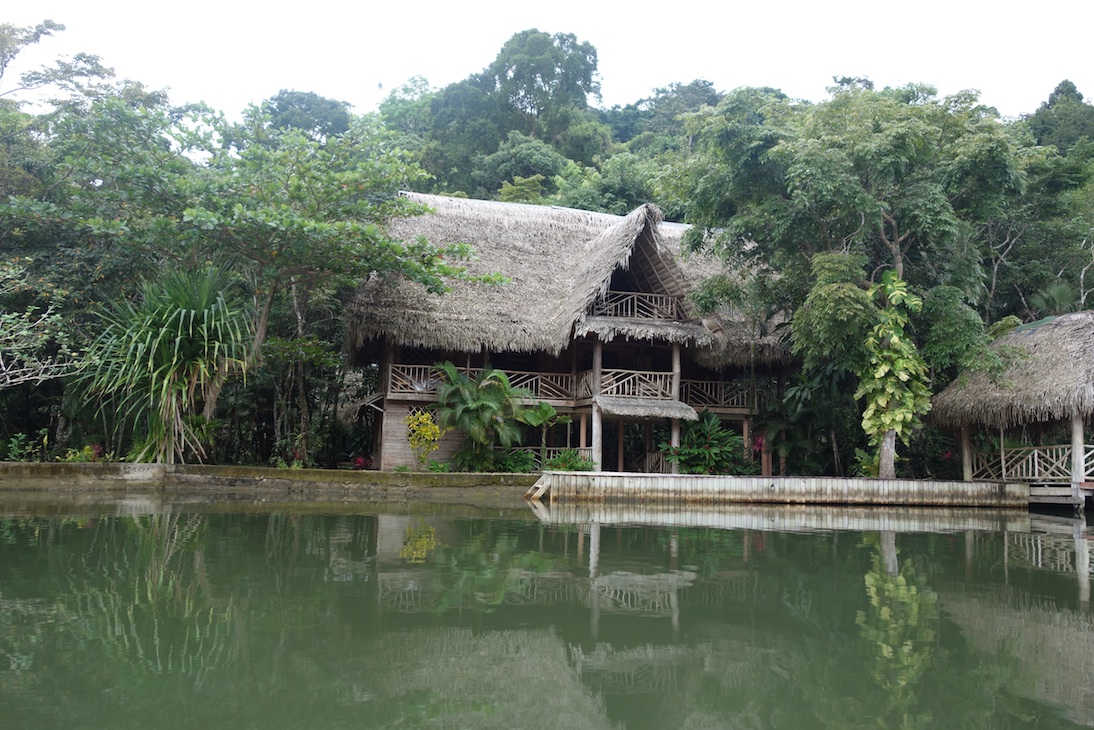 End of part one