A laptop is more than just a digital device you use to watch movies or play games. It has transformative powers that can open doors to infinite opportunities in education, employment, and personal growth. Not only do they allow people to communicate with each other but also break down barriers by enabling online learning, skill development, and job searching. Unfortunately, a large section of society is still closed to these benefits, primarily due to financial constraints. But is there a way to get a free laptop for low income families? 
Yes, buying a laptop is expensive in the USA. Even an entry-level laptop typically averages around $500. Let's explore and find out how someone with a limited bank balance can obtain a free or at least a low-cost laptop.
Is It Really Possible to Get Free Laptop for Low Income Families?
Let me make it clear right of the bet, If you are thinking of a Federal-run initiative giving away free laptops for financially constrained families, you will be disappointed. As of now, there is no government initiative, nor is it in the pipeline, to help people with free laptops. However, there are a range of support programs and non-profit organizations that can collectively make it happen for you.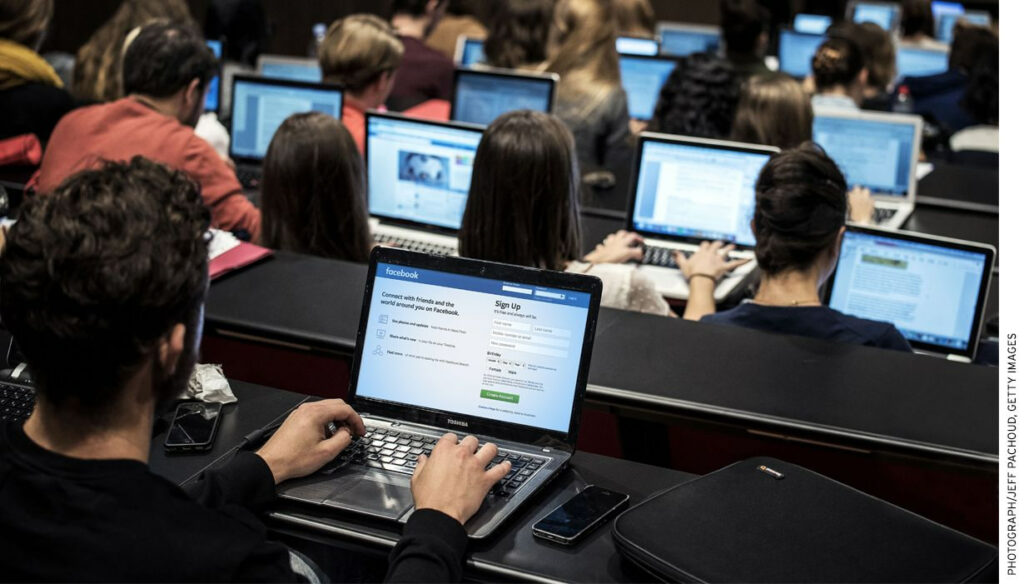 Can I Get A Free laptop with an EBT Card?
For people who are struggling to fulfill their daily needs due to low income, the US government runs a support program called SNAP (Supplemental Nutrition Assistance Program). Under this scheme, each recipient is issued an Electronic Benefits Transfer (EBT) card. This card is used by the government to transfer monetary assistance each month to people, enabling them to purchase nutritious food items from participating stores.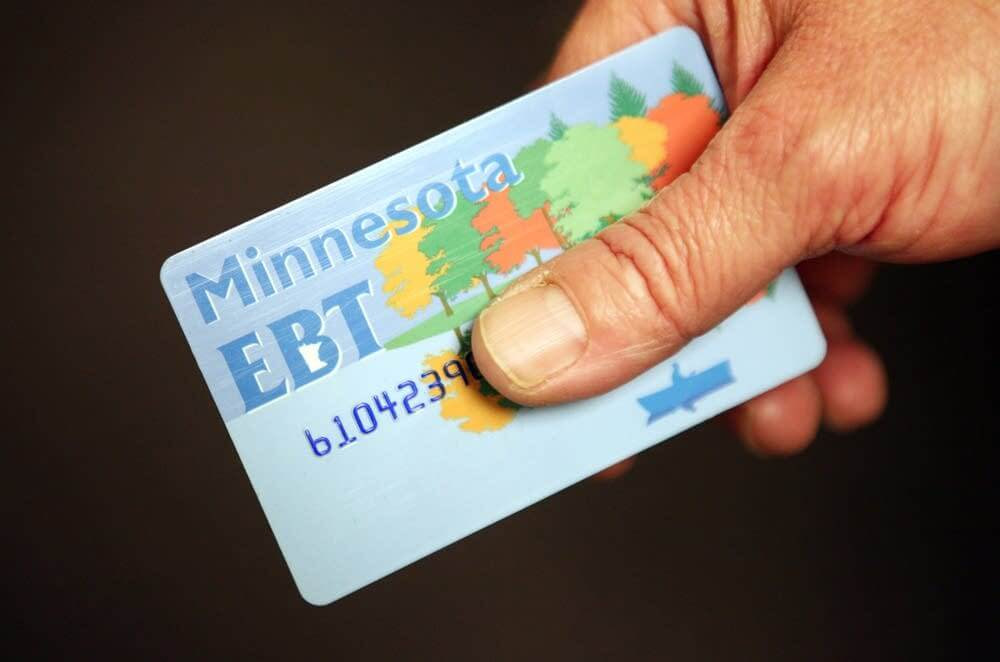 While an EBT card is not intended for non-essential shopping, it can definitely help you bypass several verification steps while establishing your eligibility for a free laptop. EBT cardholders directly qualify for the majority of support programs, including the ones offering free computers for low-income individuals. 
To apply for an EBT card, you must review the eligibility criteria within your state and visit the nearest SNAP office with the necessary documentation regarding your income, identity, and address. There is an option to send the application online, by email, or by fax; however, you may need to be interviewed by the SNAP officials to get approval. 
How to Apply for a Free Laptop from the Government?
While it's possible to obtain a free laptop for underprivileged individuals, it's important to note that currently, the government doesn't have a nationwide initiative that provides complementary laptops and PCs to people. However, there are other government initiatives that can help you qualify for a free laptop. Let me tell you how. 
The federal government has started numerous support schemes under which financially challenged people get assistance from the government to lead an above-average lifestyle. These programs are primarily aimed at an economically weaker section of society. The Federal agencies have outlined a national poverty line to determine the financially challenged section. Technically, whoever falls below the poverty line is entitled to get a free laptop from the offering private or non-profit organizations.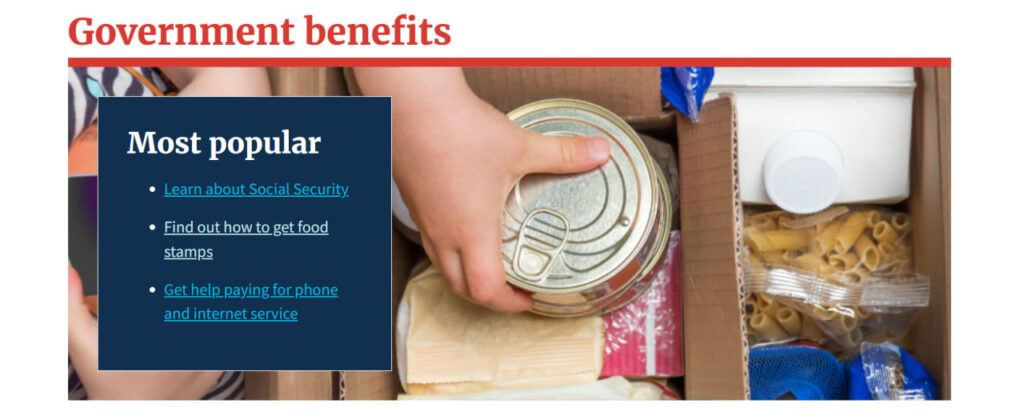 To find out the available programs, you must conduct research and track down the organizations offering free or low-cost laptops. Most programs offer laptops for low-income individuals from specific sections, such as students, veterans, retired military officials, etc. In the following section, we will explore some of the options you can use to qualify for the program.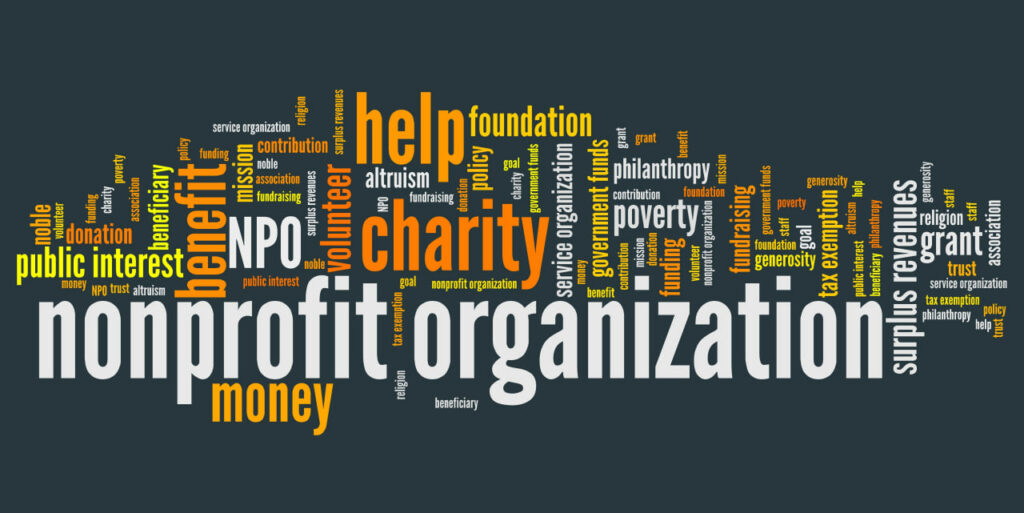 The next step is to get your documents ready, such as photo identification, proof of income, and whatever is required by the particular organization.  
What are the Eligibility Criteria to Get a Free Government Laptop?
The eligibility criteria to obtain a free laptop vary depending on your locality and the program/organization. For instance, the poverty thresholds in Alaska are different than those in Columbia. Therefore, it's crucial to look for the organizations offering the program in your region. Furthermore, organizations typically employ different guidelines to determine the eligible members.
In essence, it's smarter to apply for as many programs as possible to increase the chances of getting approval. Here are some common requirements you must fulfill:
1. Income 
As I mentioned above, these services are exclusively accessible to people who are facing financial hardships. If your monthly income falls below the poverty line, you will be automatically qualified for the majority of such programs. To find out more, you can review the latest U.S. Federal Poverty Guidelines, which are also used to determine financial eligibility for certain federal programs. 
2. Participation in Government Programs
If you are participating in government assistance programs, it might enhance your chances of qualifying for a free laptop. Depending on your current income, you can enroll yourself to become a beneficiary of various support schemes. The documentation demonstrating your participation can serve as evidence of your limited financial means and substantiate your requirement for a no-cost laptop.
Here are some of the programs that can help you participate in the free laptop program offered by multiple organizations:
National School Lunch Free/Reduced Program

Food Stamps (Supplemental Nutrition Assistance Program)

Affordable Connectivity Program

TANF or GA Financial Assistance (necessary document needed with a date)

Supplemental Security Income (SSI)

Low Income Home Energy Assistance Program (LIHEAP)

Section 8

The National School Lunch Program's Free or Reduced Lunch Program

Adult & Child Mental Health Case Management

Foster Care Program

Unemployment Benefits

Social Security Disability (SSD)

Pell Grant (for students)

Lifeline Assistance Program

Veteran Benefits

Head Start 

Medicaid (Medical Assistance)
What Documents Do You Need to Apply for Free Laptop?
While applying for a free laptop, you need to provide supporting documents to prove your eligibility. Please remember that the eligibility criteria and the required documentation can differ based on your region and the specific program you're applying to. 
Such organizations are primarily focused on helping out low-income individuals and collaborate with government/private agencies to execute thorough background verifications. It is strongly recommended not to forge any documents and to maintain honesty regarding your requirements within the application form.
Proof of Identification
Some organizations offer the service only to individuals holding American citizenship. In that case, you will have to present your identity proof. 
Acceptable forms of identification include:
Passport

Birth certificate

Driver's license

Government or state-issued ID

Tribal ID

Permanent Resident or Resident Alien Card

Certificate of Naturalization or of U.S. Citizenship

Foreign passport
Address Proof
You must provide an address as proof of domicile. It will also be used for communicating as well as as the delivery destination if your application is approved.
Here are the documents you can use as proof of residence:
Driver's license

Government or state-issued ID

Tribal ID

Paycheck stub

Current income statement

Current mortgage or lease statement 

Copy of utility bills
Proof of Income
To establish your eligibility within the economically disadvantaged category, you are required to present details regarding your income status.
The following documents will be acceptable:
Current income statement from your employer

Paycheck stub

Federal tax return documents from the previous year

Workers' compensation statement

Tribal tax documentation

Veterans Administration statement of benefits

State tax return documents from the preceding year

Statement of unemployment compensation
Government Program Participation
If you are a beneficiary of any government program featured on the organization's official site, you can provide the documents to claim your eligibility. 
Here is the list of documents you might need:
Documentation confirming enrollment in a federal support program

Verification of participation in a Tribal support program

Official notification of inclusion in an eligible state program

Statement detailing benefits received from federal, state, or tribal programs

Official document serving as proof of government program participation

Documentation providing evidence of your participation in the qualifying program
What Programs Offer Free Laptops for Low-Income Families?
As I mentioned, the United States government is not running a centralized program offering free laptops to individuals. However, numerous non-profit organizations allow you to apply for a low-cost or free laptop. Here are some notable mentions:
It's a non-profit organization that is aimed at helping those in need of personal computers, tablets, or laptops. The company is primarily focused on teachers, students, foster homes, senior citizens, disabled US veterans, shelters, and military families. Whoever is in genuine need of a laptop can visit the website and apply for one.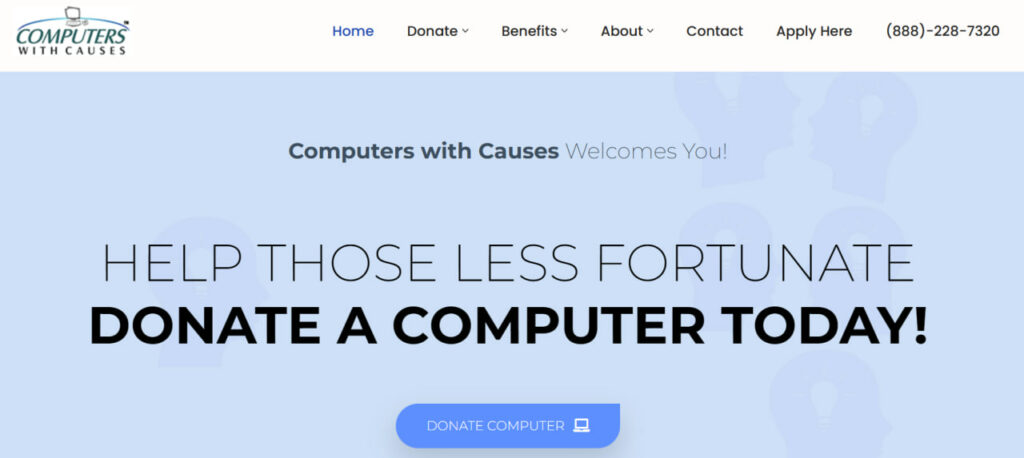 The organization conducts a strict background check and income verification to eliminate the possibility of any bogus requests and ensure that the help goes only to deserving hands. The application processing time is approximately 30 days. If there's no response within this period, you can apply again. Usually, it takes 1-2 weeks to get a response. 
To apply for a free laptop online, you must visit the website and fill out the form explaining why you are a worthy candidate. After reviewing your application and documents, the company will provide you with a new or used laptop, depending on your requirement and availability. 
If you want to supply computers to low-income families outside the USA, World Computer Exchange can help you out. It's an NGO operating on a global scale and provides computers and laptops to needy institutions in developing nations at extremely low prices. 

WCE operates with one purpose – To provide the technology to financially backward sections in countries with minimum resources. Anyone running a non-profit or educational program can apply for hundreds of computers and peripherals. A range of computers with different specifications are available at WCE, along with webcams, digital projectors, etc. 
Interested parties can visit the website and fill out an online application form explaining their budget, requirements, and intended purpose for using the provided computers. All computers supplied by the organization come preloaded with educational software and training materials. Additionally, the organization provides one year of support for each PC that they ship.
It's a non-profit organization based in Southern California that accepts computers and parts as donations, refurbishes them, and donates them to underprivileged youngsters, schools, and disadvantaged educational establishments. The organization works toward educational equality among sections of society by providing cost-free laptops and computers to children lacking access to technology.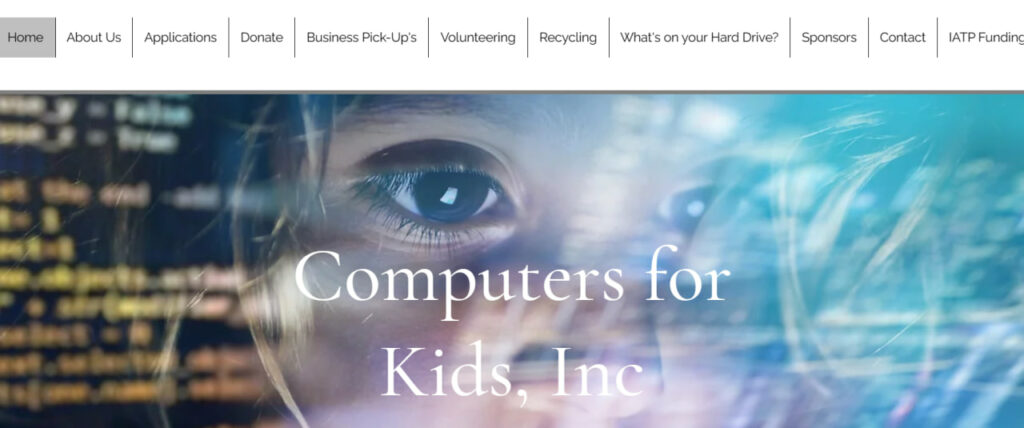 Individuals and businesses can contribute by donating used computers or individual parts. Dedicated volunteers then refurbish them, ensuring that each PS is fully equipped and licensed according to Microsoft's refurbishing standards. These fully revamped computers are then allocated to those qualified by the scrutiny team. Since its inception in 2002, the organization has donated over 50,000 computers to various educational institutes, non-profit initiatives, and K-12 grade students. 
To apply for a free laptop, you must fill out the application and disclose your income status. Once qualified, the organization will provide each eligible kid with a computer or laptop loaded with Win 10 and Office 2010, along with one year of tech support. 
Everyone On started its journey as a Public Awareness Program in 2012, aiming to provide affordable internet service to families with K-12 children who are in lower income brackets. The non-profit entity has been constantly working to extend support to underserved communities with cheap internet and free computers. Additionally, they run a digital literacy program to increase technological awareness and connect communities, eventually fostering a positive change in society. 
The program is active in 50 states, and you can check the available offerings within your region through the organization's website. To qualify for the program, you must fulfill the minimum income criteria set for your particular region, varying between $35,000 to $50,000. The process is straightforward – Provide the zip code, select the conditions you fulfill, and apply for the suitable internet and device program.
The organization also accepts old computers and peripherals as donations and recycles them to create fully-functional computers for low-income families. Since 2012, the organizations have delivered over 6000 computers, along with digital training to thousands of financially backward kids. 
The next is Laptops 4 Learning, another non-profit endeavor providing the gift of technology to economically challenged students and veterans. The organization strongly advocates education for all and understands the significance of laptops in the current digital landscape.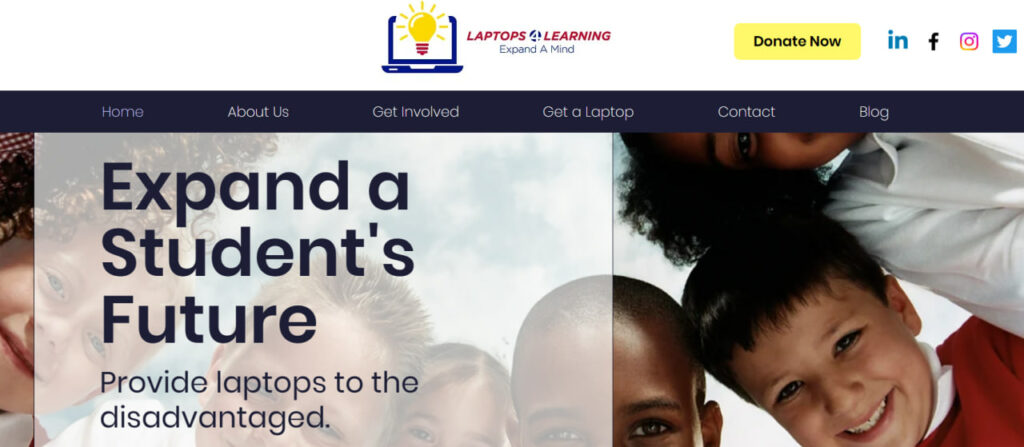 Since 2015, Laptops 4 Learning has made commendable efforts to equip students with high-quality laptops to accomplish their educational tasks, training, and personal development. If you meet the organization's eligibility requirements, you can obtain a brand-new or refurbished Windows laptop or a Chromebook at a low cost or no cost. 
To apply, you need to visit the organization's website and register yourself as a student or veteran by providing the necessary identification details. The volunteers will do a background assessment, and after your application gets a green signal, the requested laptop will be dispatched to your address. 
PCs for People provides refurbished desktops and laptops to people facing economic challenges. As a certified refurbishment partner for Microsoft, the organization delivers Windows-only laptops and PCs to qualified members. To obtain a low-cost laptop, the applicants must be a beneficiary of a government assistance program or have a household income of less than 200% of federal poverty guidelines.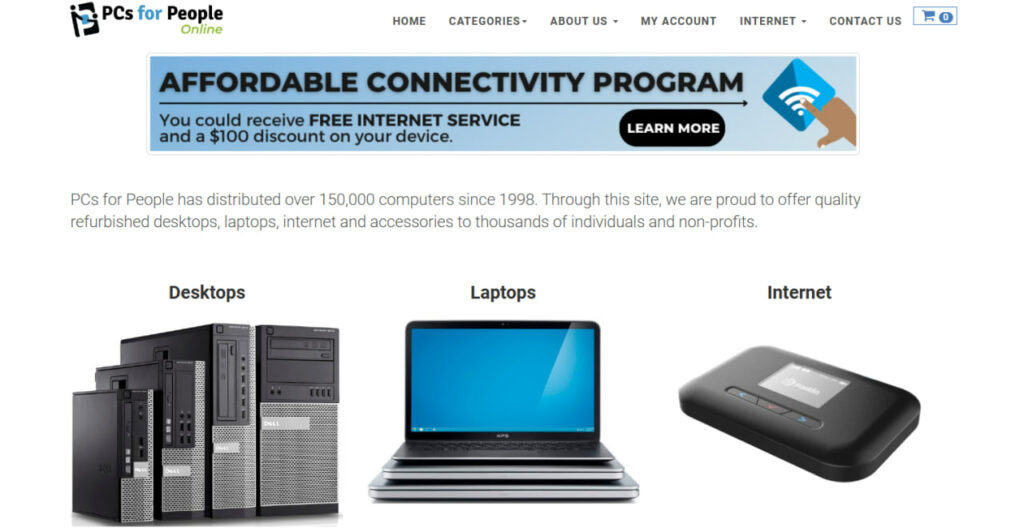 To apply, you are required to submit a form and provide photo identification proof, along with the necessary income and participation documentation. Once approved, you can get high-quality laptops for as low as $100. 
By providing affordable computers and internet services, digital skills training, and technical support, the organization works to ensure everyone has an equal opportunity to reach their full potential through digital technology. 
FAQs
1. How can I get a free laptop for students?
If you are a student from a low-income family and a beneficiary of a Pell Grant, you can use related documents to apply for a free laptop from organizations like PCs for People, Everyone On, Computers with Causes, etc. 
2. Is the Government giving out low-cost laptops for low-income families?
As of now, the United States government is not directly distributing free laptops. However, there are numerous organizations that help financially disadvantaged families to get a free or low-cost laptop. 
3. How to get a free laptop for low-income families?
You can visit the non-profit organizations mentioned in this article and participate in the free laptop program. To establish your eligibility, you can use government-issued documents.
4. How to apply for a free laptop through EBT?
Find an organization that is giving away free laptops for EBT card holders, and submit your application along with the requisite documentation. Laptops 4 Learning and Computers for Kids are two popular organizations where you can get a free laptop with an EBT card.
5. Can I get a free computer for the disabled?
You can reach out to the U.S. Department of Health and Human Services for necessary permissions and document submission. Alternatively, you can also apply through organizations like Computer for Kids. 
Final Word
Computers are more than a luxury in today's fast-moving digital environment. As we've witnessed during the pandemic, digital devices, particularly laptops and tablets, proved to be highly beneficial. Be it a student striving to complete assignments, take notes, or conduct online research, or professionals crafting business proposals and presentations, the laptop is the number one choice for everyone. 
While a dedicated laptop distribution program might not be on the horizon of the US government, thanks to several compassionate organizations, it has become feasible to get a free laptop for low income families. Yes, you may not get a shiny brand-new laptop, but this support is very significant in bridging the gap between the two sections of society as well as for spreading digital literacy and awareness.