In the last five years, Artificial Intelligence has shown remarkable achievements in the field of content generation. Whether texts or images, the highly trained AI models are now well-capable in creating on-demand content within seconds. Leading the way are platforms like ChatGPT, Midjourney, and Bing Image Creator. AI image generators, in particular, are getting quite a hype due to their ability to produce abstract and unique photographs. Today we turn our attention toward AI Headshot Generators – Programs capable of swiftly generating professional-grade headshots in mere seconds.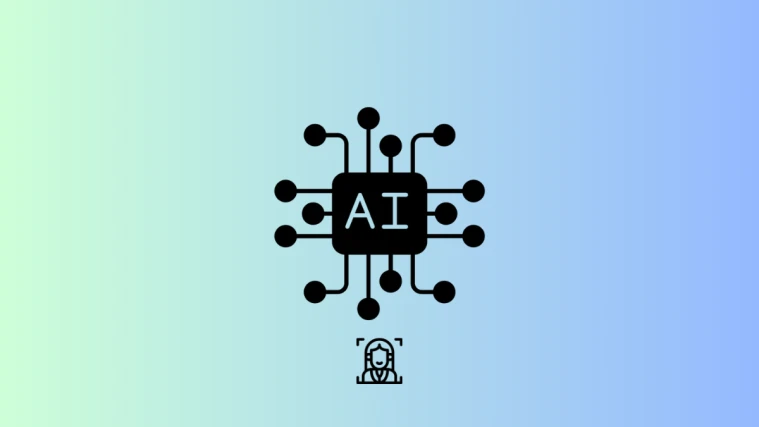 Follow along as I cover the Top 8 AI headshot generators in 2023, their features, limitations, and overall performance. 
What is AI Headshot Generator?
Before we jump to the list, let's take a moment to understand what these programs entail. A headshot generator is an AI-based program that uses advanced algorithms to assess your facial features and create high-quality headshots that closely resemble real-life photographs of individuals. 
It all starts with a reference photo, and the AI algorithm uses GAN (Generative Adversarial Networks) to create and train an AI model. This model then analyzes the features and minutest details in the photos and reconstructs headshots with photorealistic attributes. 
To achieve optimal results, most headshot generators require users to upload multiple reference pictures from different angles so that the model can comprehend facial features from various perspectives. Also, Some generators let you try different styles, hairstyles, facial features, tones, outfits, etc. AI-generated headshots are useful for a range of purposes, including logo design, digital CVs, corporate profile pictures, or even personal scrapbooks.
8 Best AI Headshot Generators 2023
I've tested various AI headshot generators in the market, and based on the results, I've compiled a list of the top eight. Let's explore them.
Starting, PFP Maker is my top choice as a free AI headshot generator. All you need to do is upload one picture of you, and the smart AI algorithms will remove the background and create hundreds of professional profile pictures in a few minutes. You can also customize the result by editing colors, shadows, and other elements to produce a stunning and realistic profile picture that will elevate your online presence.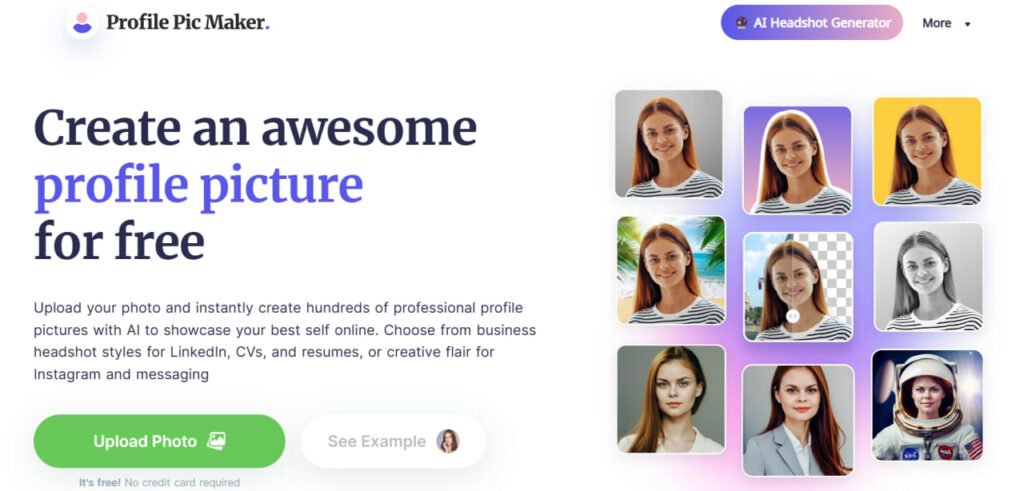 For more professional results, you can switch to the paid headshot generator, where you need to upload a few photos in different settings, angles, and lighting. The AI will take around an hour to analyze your features and generate over 120 corporate profile pictures. Moreover, you can choose from hundreds of different styles to obtain a business photo that will certainly make a good first impression. 
Get high-quality professional business photos for yourself or the whole team easily without a physical photographer.

Generate 100+ free professional profile pictures from a single photo. 

Get your corporate headshots wearing business outfits or sitting in an elegant office or conference room.

Perfect for your business profile, LinkedIn profile, CV, or business social media accounts. 

Automatically remove the background from a custom photograph. 

Get matching background color, precise shadows, and stunning photo quality. 

7-day money-back guarantee.
Price – Free, $15/month
Next up is Fotor, a robust photo editing platform that's been around for a while. Not long ago, the company introduced an AI photo generator where you can create AI avatars based on your photographs. Whether it's for personalizing your social media profiles or crafting a professional LinkedIn employment image, Fotor will cater to your needs.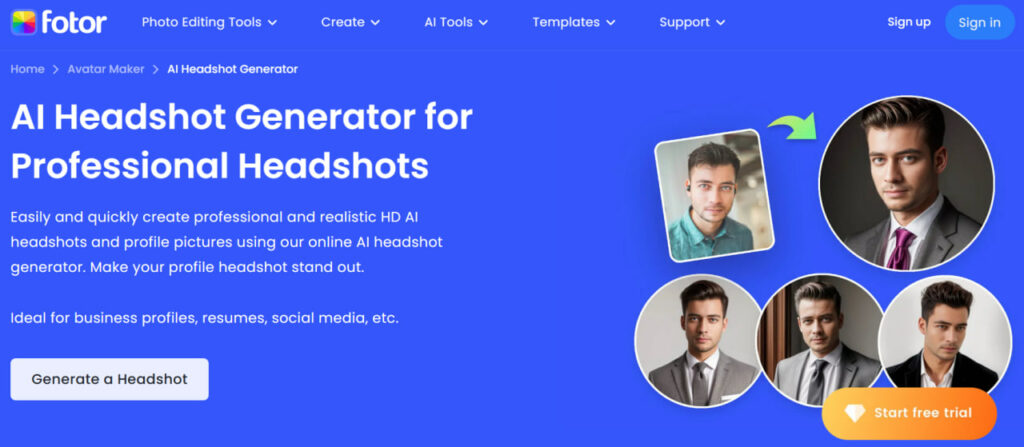 Additionally, if you need random headshots for your business website or a presentation, Fotor allows you to generate photos using text prompts. While the photo quality of Fotor's headshots is generally satisfactory and suitable for corporate purposes, some photos appear distorted or contain minor inaccuracies. So you may need to give it a few tries to achieve the best results. All you need to do is pick a style, upload 4-15 photos, and select gender. Within a few minutes, you can get a stunning high-definition portrait.
Works best for social media profiles, business portfolios, resumes, job applications, etc.

Transform your portraits into attractive headshots.

Create your team's AI profile pics to boost your brand image and professionalism. 

Choose between formal, casual, or artistic looks.

The intelligent text-to-image generator can create hundreds of unique photo models for your business website.  
Price – $19.99 (40 images), $29.99 (100 images), $39.99 (200 images)
Secta AI is a newly launched AI platform where you can easily convert your regular selfies or portraits into professional business-style headshots. The process here is relatively shorter – You upload 25 or more regular photographs of yourself, and the AI engine will work its magic to generate approximately 300 stunning photos.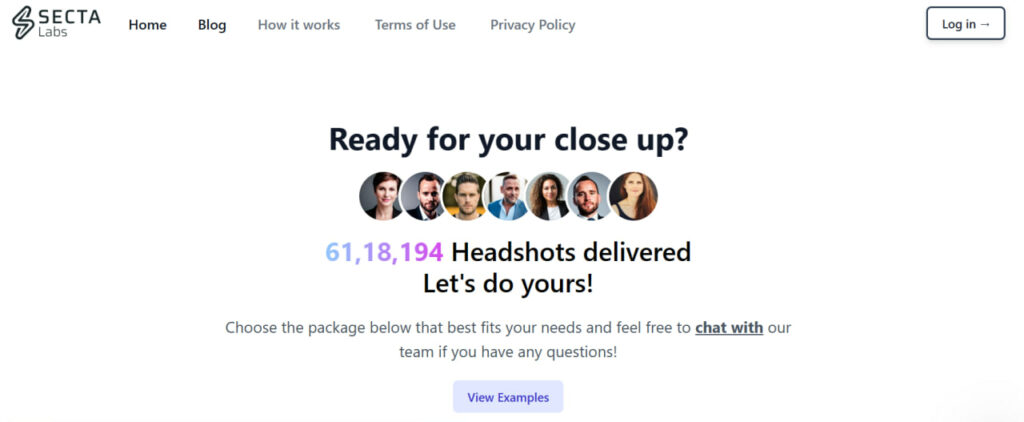 These AI-generated photos come with enhanced facial features, balanced skin tones, and professional-looking lighting conditions. Among the images produced, some are captured in natural lighting environments, while others showcase office setups with business attire and various other styles.
These images are delivered in Secta's private gallery, where you can save or export the ones you like the most. While Secta results often contain redundancy and inaccuracies, according to the company, out of 300, you are sure to get 100-150 usable photos. Moreover, you can use the photoshoot tool to create further variations of the generated images in different styles and settings. 
Get over 300 professional headshots in different settings, styles, and locations in less than two hours.

Save your favorite images in your private gallery and explore them whenever you want.

Built-in photoshoot tool to change styles and retouch tool (coming soon).

You get up to two free retries if you are not happy with the result.

100$ money-back guarantee, given that you haven't downloaded any images. 
Price – $49 (300 images)
Another new kid in town is headshots by AI, which uses highly intelligent Stable Diffusion and Dreambooth models to develop eye-catching AI headshots. During my testing, I found the results to be very close to reality, and the amount of details in each photo simply blew my mind.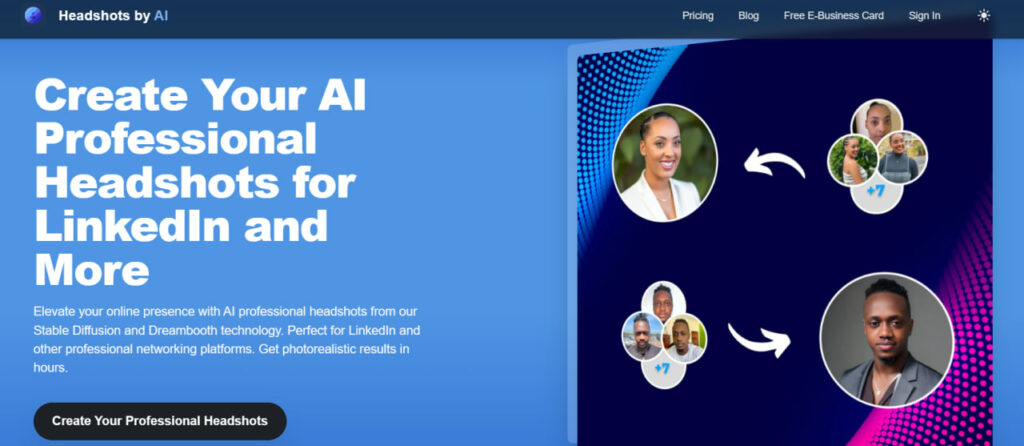 Although the photo generation is slower compared to some other platforms, the exceptional quality of the pictures makes the wait entirely worthwhile. You just need to upload at least 20 photos of yourself where your face is visible, and AI will then take up to 3 hours to analyze the photos and generate a model. Once the image processing is complete, you will receive a notification, and you can choose from a selection of 20 AI headshots. 
Please keep in mind that your photos will be removed from the server after 24 hours of their creation, so make sure to download them promptly to retain your copies. 
Create business photos without losing any facial details.

Advanced test-to-image Stable Diffusion and Dreambooth models for deep learning.

Up to 20 high-definition photographs for your LinkedIn, Social media, or Resume.

No free trial and no money-back guarantee. 

Automatically deletes photos to protect your data. 

Requires more reference photos for better results. 
Price – $25 ( 60 photos in 12 hours), $35 (120 photos in 6 hours), $50 (180 photos in 3 hours)
Try it On is gaining quite a lot of attention, having been featured by reputable sources like Independent, Business Insider, and WSJ. With this platform at your disposal, you don't need to visit a professional photographer to take headshots. Whether you require enhanced headshots for your modeling portfolio or a polished professional image for your LinkedIn profile, Try It On AI headshots cater to both requirements.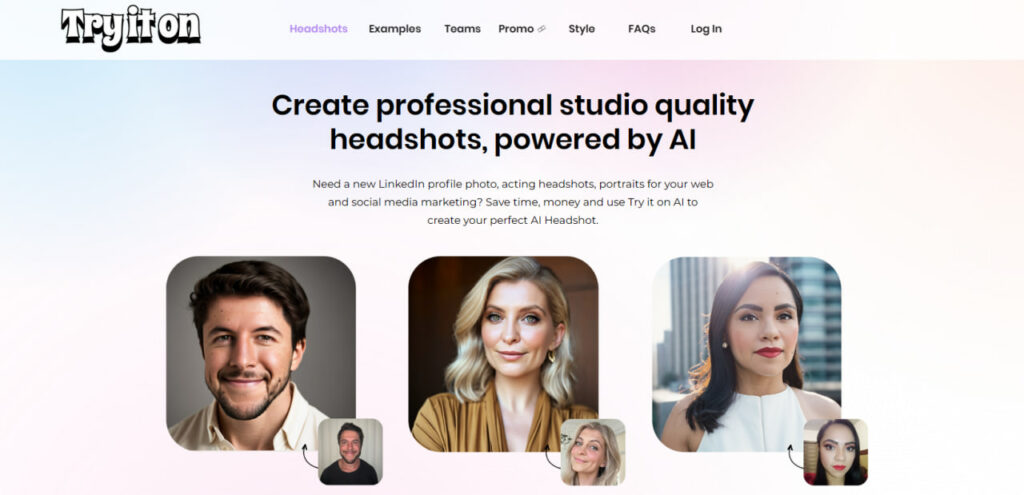 You need to upload at least ten reference photos (selfies, portraits), and within a few hours, you will have your AI headshots ready to be downloaded. Mind you; the waiting time may differ according to the server occupancy. Additionally, each headshot also comes with a magic wand button that applies quick AI fixes, ensuring a more realistic and usable outcome.
The standout feature of Try It On is that you can pay an extra $10 to have your AI headshot retouched and perfected by a human editor to remove any robotic features. 
Choose from a wide selection of sample images and styles to find the perfect fit.

Receive your headshots swiftly, with delivery times as short as within an hour, although in some cases, it may take up to 72 hours.

Customize the outfit, occasion, clothing items, clothing material, and color preferences for a personalized touch. 

The platform only accepts Stripe payments.

Visually stunning photos with a very high level of detail make them ideal for aspiring models.
Price – $17 (100 headshots), $29 (200 headshots), $45 ( 200 headshots + 2 human edits)
Moving on to Aragon –  one of the best AI headshot generators available today date. Just like other AI profile pic generators, Aragon swiftly transforms your casual selfies into premium photos, but in the case of Aragon, the results speak for themselves.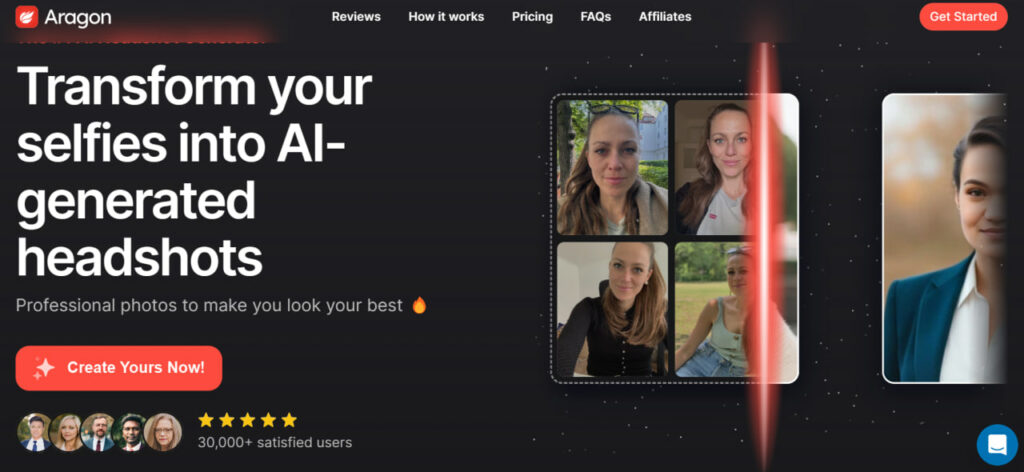 Each headshot from Aragon is rich in detail, capturing almost 100% of your facial features, making it virtually indistinguishable from a real photograph. Not only it saves you time and money but also ensures that your photos look even better than those taken in a professional studio. To get started, simply upload a minimum of 12 images of your face, and Aragon's AI will create a custom model within 90 minutes and deliver over 200 headshots to your gallery.
While not every AI professional headshot may be flawless, given the substantial number of output images, you can expect at least 150 usable and impressive photos from Aragon.
Ideal for job seekers, models, and business personalities, looking for professional photos.

All photos stay in your private photo album, where you can download your favorite ones whenever you like. 

The platform uses deep neural networks to train the AI model with your photos. 

You get up to 100+ different styles to choose from. 

30-day money-back guarantee if not satisfied. 
Price – $29 (40 headshots in 120 minutes, 20+ styles), $39 (80 headshots in 90 minutes, 40+ styles), $69 (200 headshots in 60 minutes, 100+ styles)
If you want studio-grade professional photographs without visiting one, StudioShot is the best AI image generator online. The company classifies itself as a virtual photography studio that uses custom AI models to create photoreal portraits from casual selfies. What I liked about StudioShot the most is that each headshot is sent to professional human editors for final touchups. As a result, you get near-realistic photos similar to those produced in an actual studio setting.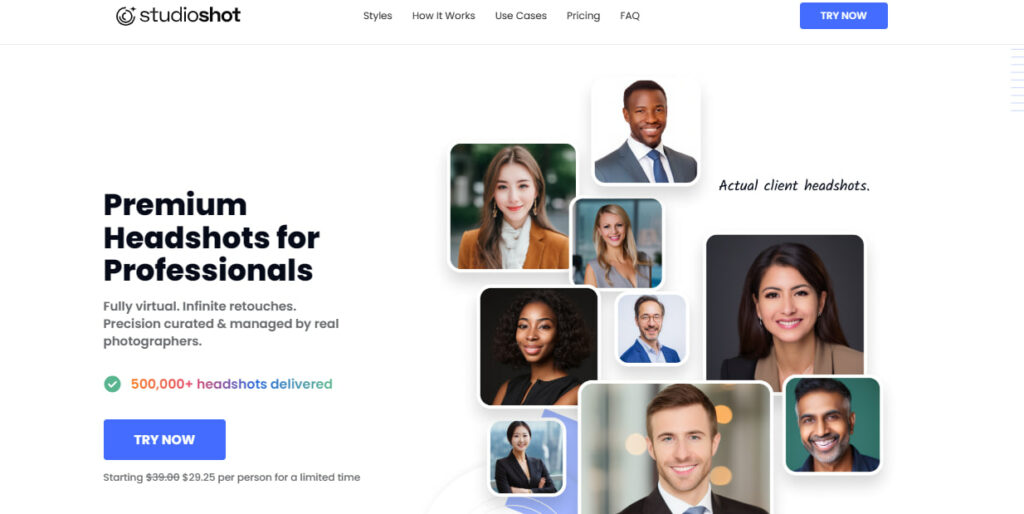 StudioShot also offers numerous photo styles each with different lighting, background, and aesthetics. Simply upload your selfies, pick a style, and you will get a collection of 50+ headshots. But the best part is that you can enjoy unlimited touchups for free until you are completely satisfied with the outcome.
Get your AI-generated photo refined by skilled human photo editors. 

The final results will be delivered to you within two days. 

An array of styles, such as Warm White, Dramatic Black, Charcoal Gray, and more, allows for personalized lighting and background settings.

The option to choose the purpose of the photographs, including actor/model, executive, real estate, LinkedIn, and others.

Infinite touchups until you are entirely content with the result.
Price – $29.25/person (1-5 members), $21.75/person (5-20 members), Custom (20+ members)
The last one on my list is Headshots Pro, where you can get professional-level portraits in a few minutes. The AI model uses advanced algorithms to optimize each photo for balanced lighting, focus, and color, resulting in captivating and polished headshots with a professional touch.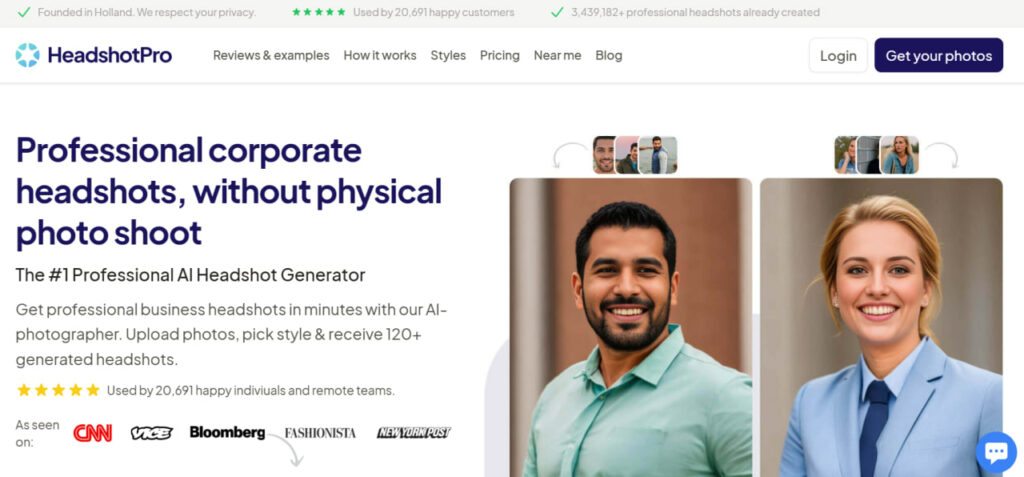 To add a professional setting, Headshots Pro offers various styles, ranging from traditional look and indoor settings to business-casuals and outdoor lighting conditions. Simply choose your desired style, upload a few selfies against a plain white background, and let the AI take care of the rest.  In a short while, you'll have access to over 120 exquisite, high-resolution headshots ready for download. 
Suitable for business cards, team identity cards, professional profile photos, etc.

Choose your favorite background and clothing style to match your personality and occasion. 

Quick headshot delivery within 2 hours, regardless of the plan you choose.

A full refund option is available within 14 days if you haven't trained the AI model.

Supports various image formats, including JPG, PNG, WebP, and HEIC.
Price – $29 (40 headshots, 1 style), $39 (120 headshots, 3 styles), $59 (240 headshots, 6 styles)
FAQs
1. What is the best AI headshot generator?
Aragon, StudioShot, and Fotor are among the best platforms for creating professional headshots. 
2. Which Is the cheapest AI professional headshot generator?
Try It On AI is the cheapest headshot maker, with a starting price of just $17 per 100 photos. 
3. Are the headshots generated by AI unique and original?
The headshots by AI are based on your reference photos. To achieve better results, upload more photos. Nevertheless, some websites can generate fantastic photos which exceptional realistic features, close to real photographs. 
4. Are AI headshot generators free?
It's hard to find a free headshot generator as these platforms require expensive GPUs to process the images. However, you can use PFP Maker to create free AI profile pictures. 
Final word
A professional photoshoot costs around $500-$600, and even the most expensive AI headshot generators are ten times cheaper than that. Additionally, you get to play with different styles and settings to tailor the outcome to your specific requirements. While AI-generated photos may not yet match the level of detail and realism captured by a professional camera, the day is not far when Virtual photo studios will become a norm – All thanks to AI. 
All the best AI headshot generators discussed in the article excel in delivering studio-quality images with extraordinary precision and attention to detail. I highly recommend StudioShot, primarily due to its option of obtaining human retouching for the AI-generated photos, ensuring an even more refined final result.