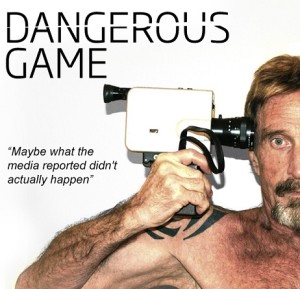 Over the past few weeks several readers of this blog have questioned the future of whoismcafee.com, and have wanted to know the reasons for my absence. I have not disappeared, nor is my blog going away, I have just been extremely busy travelling, dealing with personal affairs and contributing to the official projects regarding my life. It has been a long but fun process, and I feel blessed to have surrounded myself with an
extremely talented and honest team of individuals ­ all of whom I consider my friends. I am confident that each of you that have been following my story will find the final results to be worthwhile.
As for Sam and Amy, they are safe and we are all eager to be reunited in a peaceful environment. It has been a long ride, and we are looking forward to a new and positive chapter in our lives. In order to accomplish that, however, we must go trough a long and bureaucratic process. It is very time consuming, but it is worth every second.
In addition, I am not ignoring those that write to me. I receive an extremely large amount of requests to expose, help fix, and donate to a growing list of issues in Belize – one of the most beautiful places on Earth. I considered Belize my home for many years, and have let behind beautiful memories and friends, which saddens me deeply. I can only wish
the best for its future and those that still call it home.
I have exposed a lot of corruption in Belize, simply because my past situation allowed me to do so. Moving forward, I encourage the people of Belize to continue their fight for a better future – one without corruption, and without violence. I have paved part of the road, so please move forward in pursuit of your dreams my dear friends.
Over the next few weeks, the design and management team of this blog will begin developing a new platform. TRUST ME, it will a fun, informative and quite a bit more interactive. Through this change, please rest assures that the existing blog will remain in place, along with all comments. Unless its necessary, I will be absent until the new platform
goes live.
"In order to carry a positive action we must develop a positive vision"
Dalai Lama