Artificial Intelligence has touched our lives in many ways. From text generation and coding to storytelling and solving complex mathematical problems, AI-based tools have become increasingly popular. Furthermore, AI's capabilities extend beyond text; tools like Dall E2, Midjourney, and Bing Image Creator can produce astonishing images based on simple English prompts. However, it's worth noting that many AI image generators include NSFW filters to prevent users from creating potentially controversial graphics. The question remains: are there any uncensored AI art generators available? Let's find out.
In this article, we will explore some of the best adult AI art generators where you can unleash your creativity and produce the best controversial images.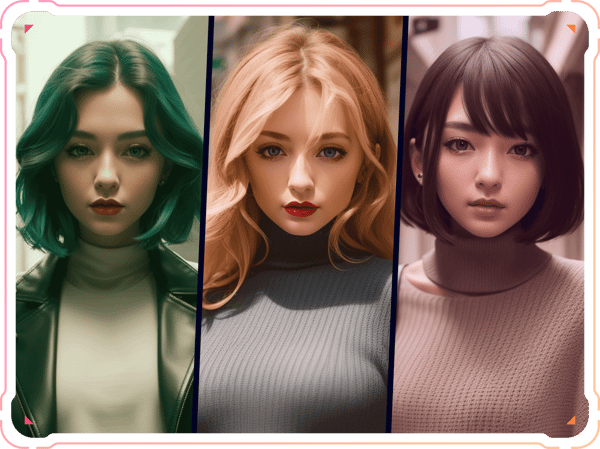 Do You Really Need Uncensored AI Art Generators?
Among both audiences and artists, uncensored art is extremely popular for many reasons. From an artist's point of view, one can tap into a huge market by selling uncensored animated images. With the help of AI image generators, artists can save valuable time and resources while producing visually captivating uncensored images. These images can be utilized in period novels, NSFW websites, or uncensored write-ups, allowing for greater creative freedom and expression.
Before proceeding further, please remember that uncensored doesn't always refer to adult or pornographic content. It encompasses any material that may not be suitable for specific users, such as violent images, depictions of death or torture, images related to sensitive issues, controversial historical events, age-restricted content, and more. As I mentioned earlier, mainstream AI image generators are trained not to generate certain prompts, words, and phrases, while others may have NSFW restrictions in place.
While uncensored art can be a powerful form of creative expression, it should also be approached responsibly and ethically, considering the severe impact it may have on different audiences and communities. As the line between freedom of expression and harm has become marginally thin, artists should be mindful of the potential consequences of their work and not use such content inappropriately. 
6 Best Uncensored AI Art Generators 2023
For those who are interested, I'll list some of the best AI art generators that allow you to create explicit images without any restrictions. 
Let's kick off with SoulGen, the top-notch and user-friendly uncensored AI image generator online. It uses advanced machine learning along with deep neural networks to bring you realistic images. With a simple prompt, you can generate images of individuals, mythical creatures, and anime characters effortlessly.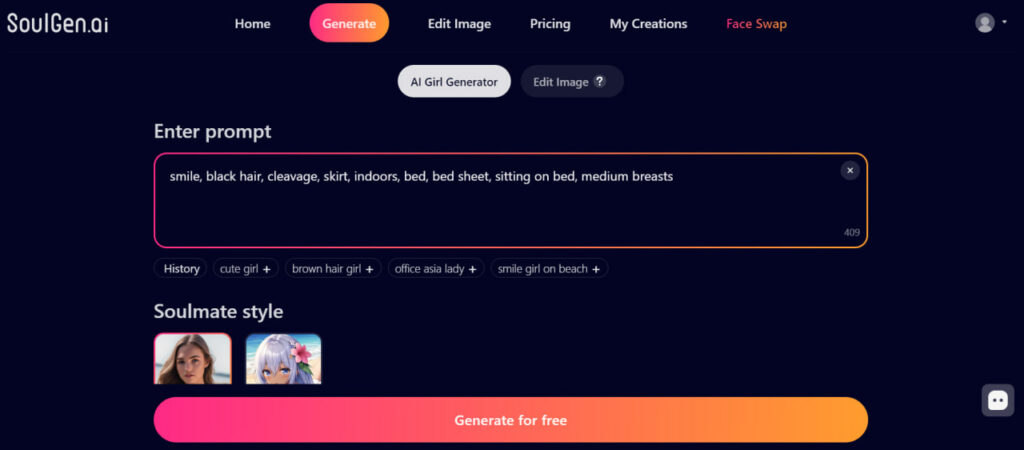 As far as NSFW content is concerned, there are no filters available. In case of an explicit image, a blurred picture will be shown with a warning and the option to view the image, giving you control over the content you wish to see.
Describe and create your dream person in any form within seconds. 

Create stunning anime characters and design them as you please. 

You can easily manipulate and modify elements in your images or SoulGen creations using simple text prompts and generate up to 9 versions of it.

Enjoy a free trial to experience the capabilities of SoulGen firsthand.

It produces visually appealing, high-quality NSFW images with remarkable artistic quality.
Price – $9.99/month, $69.99/year
Deriving its name from the popular text-to-image model Stable Diffusion, this website excels in creating premium explicit images. All you need to do is provide a brief description, including elements like body type, facial features, and clothing, and AI does the rest of the job.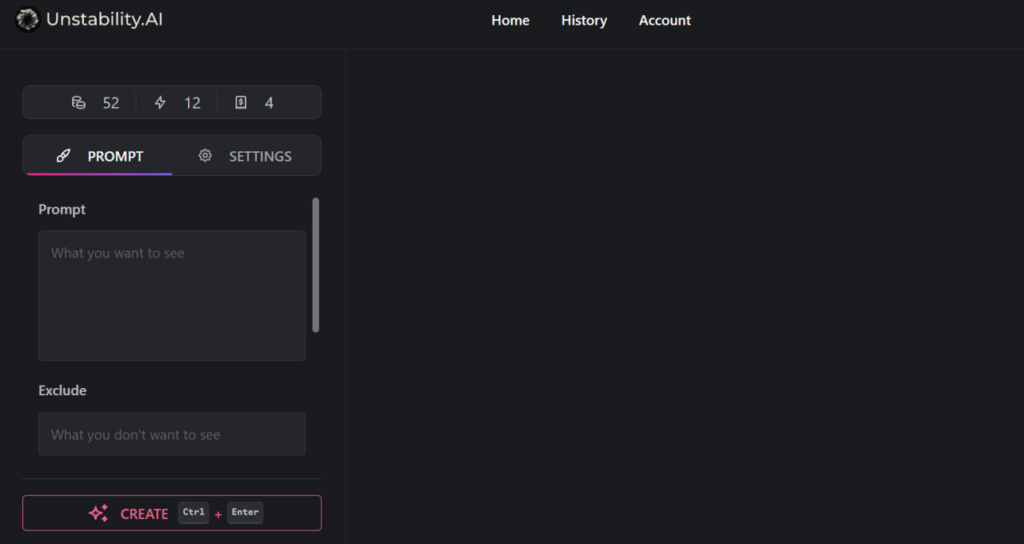 Using the Style GAN technique (Generative Adversarial Network), Unstable Diffusion generates NSFW images that are both realistic and distinct. While some images may appear overly artificial, their overall quality remains exceptional. Furthermore, you have the ability to fine-tune the outputs, resulting in breathtaking images. Moreover, you can tweak the outputs to produce images that will take your breath away. 
It produces high-definition NSFW images with intricate details

You can choose between three aspect ratios for the output images. 

The tool generates up to 4 images per prompt.

You have the option to choose the genre between Digital art, photo, anime, and generalist.

The Exclude option allows you to dictate what you don't want to see in the images. 

You can customize the sampler, sampler strength, saturation level, and high-frequency details. 
Price – $14.99/month, $29.99/month, $59.99/month
If you're interested in writing mature content accompanied by relevant explicit images, NovelAI is the perfect platform to explore. This highly intelligent AI-based platform specializes in storytelling, where you can join hands with AI to create short stories, erotica, or even a complete novel. You define characters, scenes, and storyline and the. AI will complete the tale for you.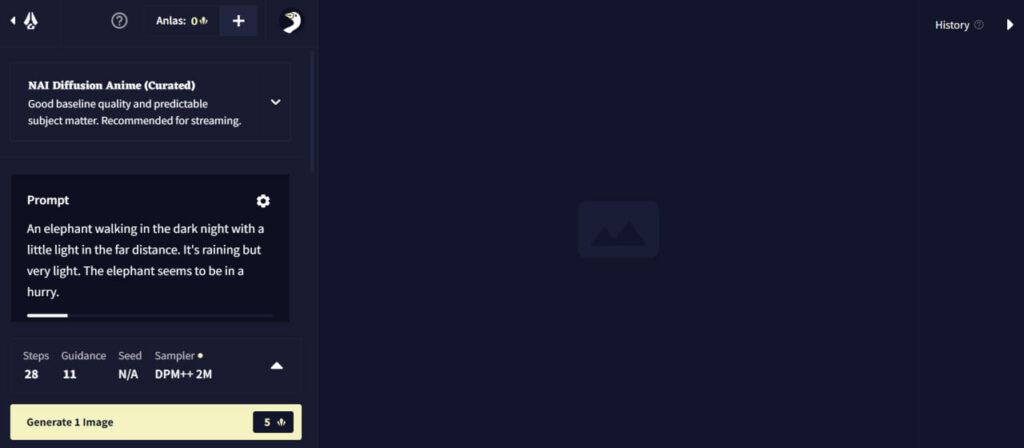 What's best about Novel AI is that it features an AI image generator that operates without any NSFW filters. You can easily bring any image to life by simply describing it in a few lines. Additionally, the tool suggests relevant tags based on your story and prompts, enhancing the creative process.
Craft breathtaking erotic art for your adult stories, websites, and e-book covers. 

The option to choose from three NAI diffusion models – Anime (Curated), Anime (Full), Furry (Beta V1.3)

By specifying undesired content you don't wish to see in the outputs, you can personalize the results. 

You get an option to add or draw a base image to inspire the generated image.

Options to choose between various image orientations and aspect ratios. 

It generates up to six images per prompt, providing ample choices for your creative endeavors.
Price – $10/month, $15/month, $25/month
Next up, we have PixAI Art, another website offering decent-quality uncensored images. If you're interested in creating NSFW anime art, PixAI is the perfect platform to explore. The best part? Unlike other platforms, you have the option to turn on/off the NSFW content.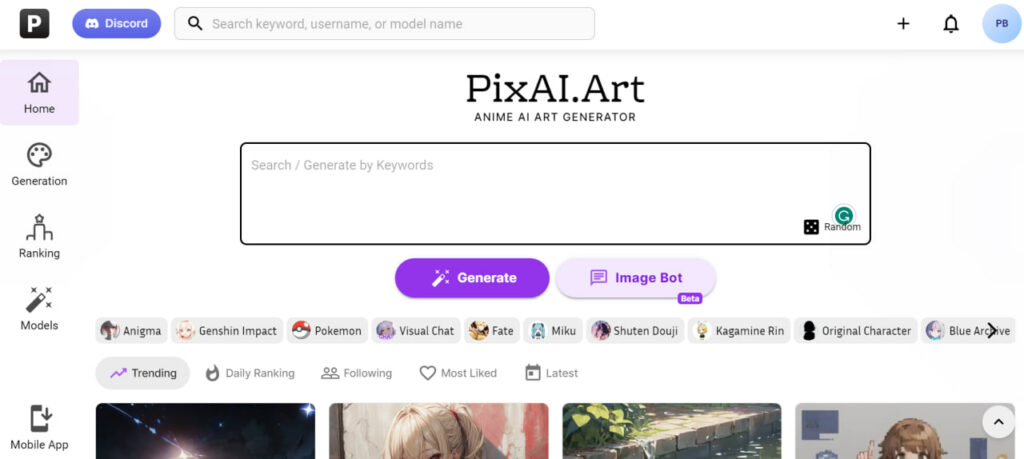 PixAI's AI engine has been trained on a vast collection of anime images, and its smart NLP (Natural Language Processing) accurately understands your prompts. This results in highly accurate AI images that closely resemble reality and match your imagination. Additionally, PixAI provides a smartphone app, so you don't have to depend on a web browser to unleash your creativity. 
But the best feature of PixAI probably is the daily reward of 10,000 tokens, which makes it the best free AI art generator on the list.
A real-time search option to browse the trending AI animes on the platform. All you have to do is type keywords to start. 

You can use a reference image or use paint tools to create reference art. 

You get to choose between 14 models, each having a specific style and capability.

Three image sizes and aspect ratios are available: 512×768 Portrait, 512×512 Square, and 768×512 Landscape.

Control Sampling steps and sampling models.

You have the option to add Negatives points that you want to exclude from the output. 

The new Image bot feature allows you to interact with Chatbot for added fun and engagement.
Price – Free
The next on my list is PicSo, where you can produce stunning real images or animes effortlessly. While the image generation process may be similar to other tools, PicSo stands out due to its vast array of options, letting you fully control the output. You can choose from various tags that allow you to specify features like body, hair, clothing, and more.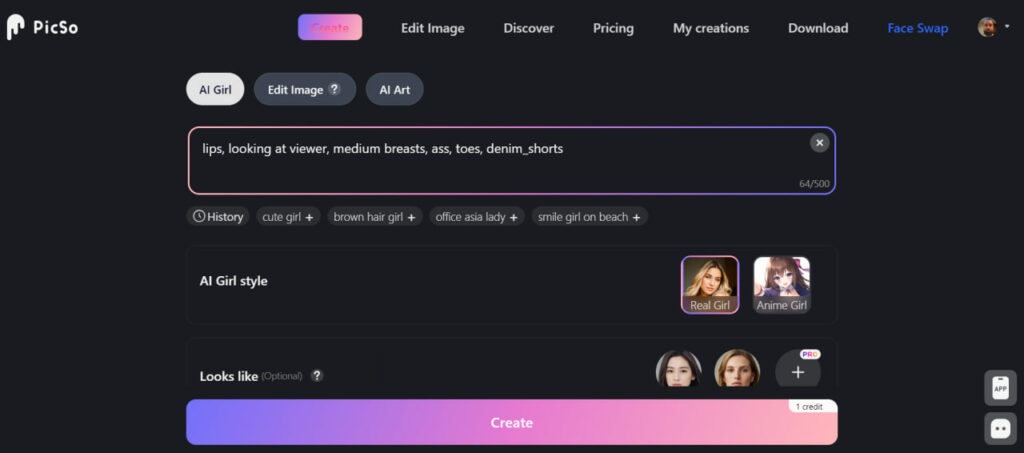 In my testing, I found the PicSo interface more responsive and easier to navigate compared to other platforms. The process is simple: provide a prompt describing the image, including details about features, ethnicity, style, clothing, and more, and watch your imagination come to life on your screen. PicSo is also available for free download on both iOS and Android.
Additionally, you get a powerful image editor where you can modify specific elements in the image, such as adjusting hair size, changing clothing colors, adding or removing elements, and more.
A wide selection of AI styles to choose from.

The option to switch between real-life images and anime.

You get a wide range of tags to manipulate the generated results, covering aspects like body, face, action, scene, accessories, and more.

The ability to generate up to nine images per prompt (premium account required).

The PicSo free trial is available exclusively through the app.

A powerful image editor to modify both the generated results and your personal photos.
Price – $9.99/month, $49.99/year
Wrapping up the list, Let's talk about Neural Love AI art generator, the most realistic of all. This comprehensive AI platform is packed with features to streamline your image creation process. Whether you're into Anime or Sci-Fi, it caters to various genres, allowing you to produce explicit images with ease.

Regarding NSFW content, there are no filters in place. However, for safety reasons, the explicit output images are blurred. You have the option to adjust this setting from the platform's Settings menu.
Simply define as you see the image in a few words, choose the genre, and modify the parameters, such as the number of output images, aspect ratio, language model, etc. The Neural Love will create fantastic AI visuals in mere seconds that will keep your mind and thoughts captivated. 
One unique feature of Neural AI is the ability to add a custom model and train it using your own photographs. Additionally, you can create AI avatars, use various editing options to enhance photos, videos, and audio, and access a full prompt for each generated image to better understand the model.
The platform creates the best and most realistic images of humans.

The user interface is a bit cluttered due to the many options available. It might take a while to get used to it. 

Train your own text-to-image model and use it for free afterward. 

Hundreds of pre-written prompts for high-quality images. 

You can choose between high-definition and standard-definition pictures.

There is an option to keep your results private. 

Various photo enhancement and editing options are available to achieve the desired output image. 

Free Google Chrome extension.
Price – Neural Love offers custom-made pricing, where you can buy 100 credits (200 HD images, unlimited basic images) at the rate of $10/month.  
FAQs
1. Is there an AI with no restreiction?
There are several AI platforms without restriction where you can generate adult texts and images. Novel AI, PixAI Art, Neural Love, and Unstable Diffusion are some of the best ones. 
2. How to generate images with AI?
The process is straightforward. You have to write a prompt describing the image in the best possible way, and the AI model will use advanced machine learning and neural networks to create the closest possible match. 
3. What is the best AI art generator for adults?
Neural Love and Unstable Diffusion stand out as top AI art generators for adults, allowing NSFW content on their platforms.
4.
Which AI image generator has no content restrictions?
SoulGen AI, PicSo, and Neural Love rank among the leading AI image generators without content restrictions. However, in some platforms, you may need to manually disable the NSFW feature.
Final Word
Uncensored art allows artists to explore their ideas, desires, and emotions without any cultural or technical limitations. However, as AI continues to get bigger, there needs to be a rulebook to keep AI usage in check. there is a need for guidelines to ensure responsible AI usage. While uncensored AI art generators offer access to unfiltered content, the open display of obscenity may be unsettling for some audiences.
Nevertheless, if you are looking for some steamy images to express your creativity, feel free to choose from any of the mentioned Ai art generators.