I received the following email today from Pedro Castellanos, a representative of a group of Latin American holders of the defaulted Belizean Superbond.  Belizean bond holders have lost hundreds of millions of dollars over the past year due to Prime Minister Dean Barrow's default:
Dear Mr. Mcafee, I represent a group of Belize 2029 bondholders from Latin America who are not satisfied with the bond negotiations taking place between Dean Barrow and the bondholders' coordinating committee. Some of us have traveled to Belize and even have friends and family members living there and know how dangerous a country it has become under the Barrow administration. We want Barrow and the UDP out of office forever, so we decided to contact you.
We were shocked by the recent events that took place in Belize City. Here is a Youtube video of the GSU acting like a death squad a few days ago, in case you didn't watch it:
BELIZE'S GSU IS CENTRAL AMERICA'S NEWEST DEATH SQUAD
I know of your deep dissatisfaction with the Barrow administration, which is exactly how we feel about Barrow and the debt default.
We don't want the bond committee to close a debt deal with Dean Barrow for a number of reasons:
1. We don't want Barrow to take credit for closing a successful bond exchange.
2. We don't want the UDP to win a third term in office. A successful debt exchange could help them achieve this goal.
3. We strongly oppose Barrow's nationalizations of Telemedia and BEL.
4. Most importantly, we believe that a third term for the UDP would be the nail in the coffin for Belize. Such a beautiful country totally destroyed by Dean Barrow and the UDP.
From your posts and interviews, we know you share many of our views. We also know that you are an extremely smart person so we decided to seek your help in preventing Barrow from closing the debt deal. We believe that a failed bond exchange would cause GREAT harm to Barrow and the UDP, and that it would politically cripple them.
Barrow is already on the hook for announcing a successful debt deal (please read his Christmas and New Year's speeches), when the larger AdHoc members of the commitee have NOT agreed to a debt deal. Just the coordinating committee has agreed, and is finding it difficult to convince the AdHoc members. A minimum of 75% of the bonds have to agree, otherwise it fails.
If this idea interests you, please contact me at this email address.
By the way, we admire very much how you handled your Belize experience.
I have responded to Mr. Castellanos and have agreed to fully support their initiative.  Please view the enclosed video of the current situation in Belize.  If anyone doubted my take on the safety of the country, this should dispel those doubts.
7  News Belize – Cruise Ships Cancel Calls
http://www.7newsbelize.com/sstory.php?nid=24405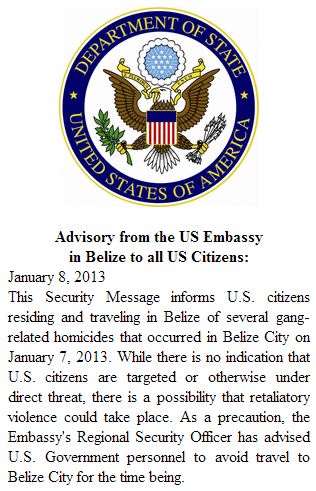 ( Long version: story starts at 5:40 – Graphic imagery warning )
[ylwm_vimeo]57034146[/ylwm_vimeo]