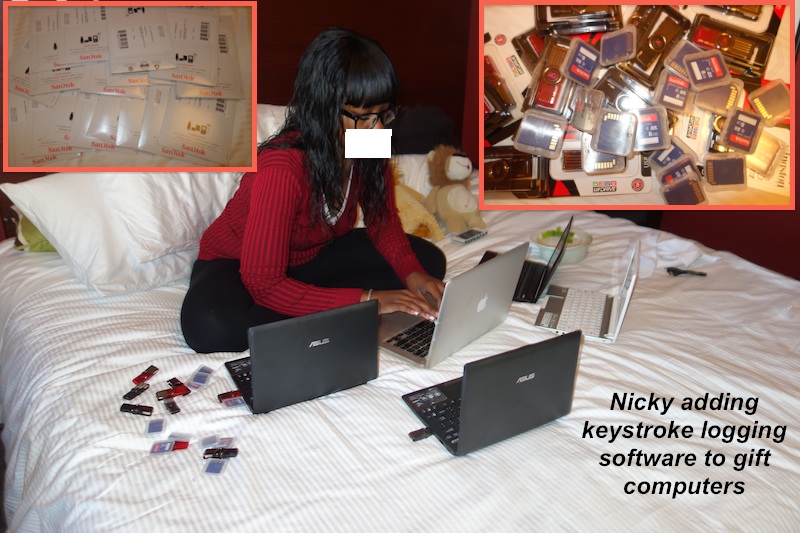 This part two post will itself have to be divided into two parts. It turned out much larger than I thought
The photo above is of one of the American women working both in Miami and in Belize. Frequently government ministers and officials flew to Miami (two hours from Belize City) for business, pleasure, parties or what have you. I needed resources in Miami to keep tabs on targets. Nicky is prepping a few computers for delivery to "friends" of hers in Belize. She told all of her targets that she had a friend in the computer sales business and that the friend could provide computers for $100 each. Even government officials like a good deal so the computers were easy to place.
Before I get into how the girls worked, you will need a brief overview of the principles of Social Engineering. These principles have been used successfully for thousands of years:
Attention
Attention, in repetitive situations, wanders. Universally. It seeks environments and situations offering diversity.
Fear, lust, curiosity and pleasure seeking trap attention. Boredom frees it.
When attention is gained, a person is open to motivation.
A good social engineer must know how to get a person's attention and keep it.
Curiosity
Most people are curious about anything new, anything out of place or strange, or anything that stands out from the background. Many people will go out of their way to check out an object that catches their attention.
A good social engineer will use a person's curiosity as one means of getting their attention.
Preconception and belief
A person's prior beliefs will color any new information received by the person.
Knowing a person's preconceptions allows us to predict, to a larger or lesser degree, a person's behavior in reaction to an event or situation.
A good social engineer creates situations in which the subject's behavior can be predicted.
Fear
Fear is the most powerful social motivator. Creating fear in someone's mind generally produces immediate results. It is the easiest social motivator to implement.
A good social engineer discovers the things that the subject fears most and plays on those things in order to control behavior.
Lust
Lust is another powerful motivator, but its overt actions are not as immediate as actions inspired by fear. Lust does, however, cause immediate, and hopeful, planning in the brain.
A good social engineer observes a subject's behavior relating to sexual issues and inserts the necessary elements into the subject's environment to assist the subject in planning to assuage lust.
Greed
No matter how much a person owns of a valuable commodity, the person generally wants more of that commodity (money, houses, cars, etc.), unless the commodity has become a financial, emotional or physical burden.
A good social engineer discovers those things that the subject deems of value and mentally assists the subject in his or her desires.
Pleasure seeking
Humans seek pleasurable situations. Pure and simple.
A good social engineer never forgets this.
Trust
Any display of trust from a given person elicits a reciprocal sense of trust. For example: Sharing a secret with someone is an indication of trust in that person and generally motivates the revealing of a reciprocal secret. Asking someone to hold your money or something valuable is another indication that you trust someone and will help make the person believe that they can trust you.
Carefully listening to someone creates trust within the person doing the talking.
Being helpful to someone elicits a sense of trust within that person.
Flattery and admiration frequently elicit trust.
Smiles elicit trust.
Friendly gestures elicit trust
The more time spent with a person, the more trust is generally gained.
When trust is created, a person is open to motivation.
A good social engineer will, as the first step in contact with the subject, attempt to elicit trust.
Comfort
In a choice involving no physical or emotional reward, people generally choose the most comfortable option.
Discomfort motivates action.
Fear, boredom and unrequited lust quickly create discomfort in a subject. A good social engineer creates situations that allow the subject to escape discomfort.
Boredom
Boredom attenuates fear and accentuates curiosity, greed, pleasure seeking and lust.
Boredom is fertile ground for planting new ideas (an idle mind is the Devil's playground).
In a boring situation, attention is directed toward potential excitement.
A good social engineer will be adept at recognizing boredom.
Adherence to moral norms
Given the desire, the right opportunity (and potential partner) and the assurance of being undetected, many men will stray. Many women will too.
The majority of people will lie in situations in which telling the truth will negatively and severely impact their lives, providing that they believe the lie will not be caught.
Few people will outright steal. The exceptions are items of perceived very low value (a pencil for example), items of perceived extremely high value involving no risk of detection, and thefts that can be morally justified (a bag of hundred dollar bills sitting on a sidewalk for example).
A large percentage of people will participate in financial cheating if they are dealing with a stranger, are not in the company of friends, and if fear of detection is low. If given too much change when purchasing an item, for example, half of the people will pocket the change without alerting the sales person.
Moral justifications free people to do immoral things.
A good social engineer is aware of these things and uses the knowledge accordingly – most specifically in helping the subject to find moral justifications for actions deemed necessary to the operation.
Adherence to social customs
In the absence of social chaos (a nuclear bomb strike, for example), civilized people will generally adhere to the day-to-day customs that make life tolerable. For example:
An item of little value left in someone's office, or on someone's desk, will, generally, remain untouched and will be freely returned if the owner asks for it.
An item of clothing left on a table or the seat of a booth will generally prevent someone else from sitting at that table or booth.
Even a stranger will seldom decline a favor requiring no effort or cost.
Providing assistance to someone in obvious need will seldom be declined if the person assisting is not placed in a position of fear or discomfort.
Even a stranger who is approached in a friendly manner will generally pause what they are doing and respond to the person approaching.
A good social engineer uses social customs in all aspects of the work.
__________________________________________________
Tools of the Trade
In addition to the computer element of the network, each girl was trained in using a variety of surveillance tools:
This pen has a pinhole video camera and a microphone. It will pickup conversations as far as 20 feet away. It can be left on someone's desk, in a chair. on a shelf – anywhere that is convenient. Collecting it later is simple. "I forgot my pen, is it still here?"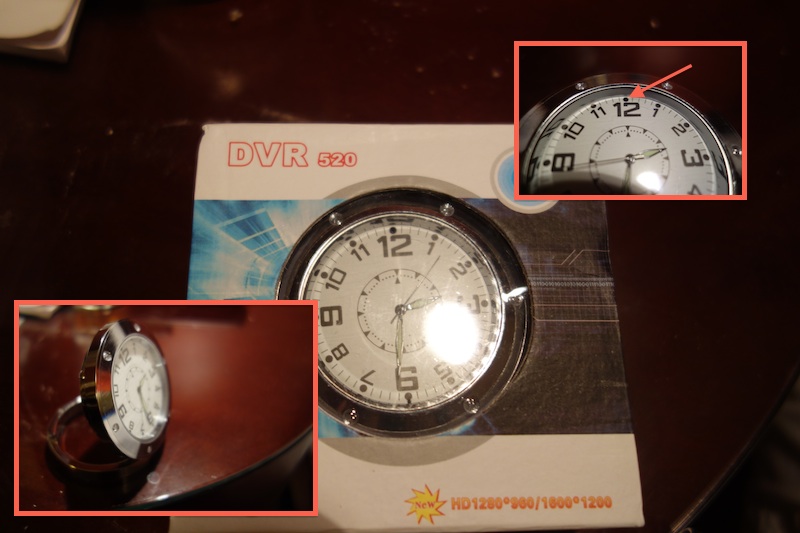 This travel alarm clock contains a video camera and microphone. It can be placed beside the bed, facing the bed, and will record – in low light – everything. The resulting videos are useful in gaining co-operation from unco-operative subjects, as well as documenting any phone calls made during the session.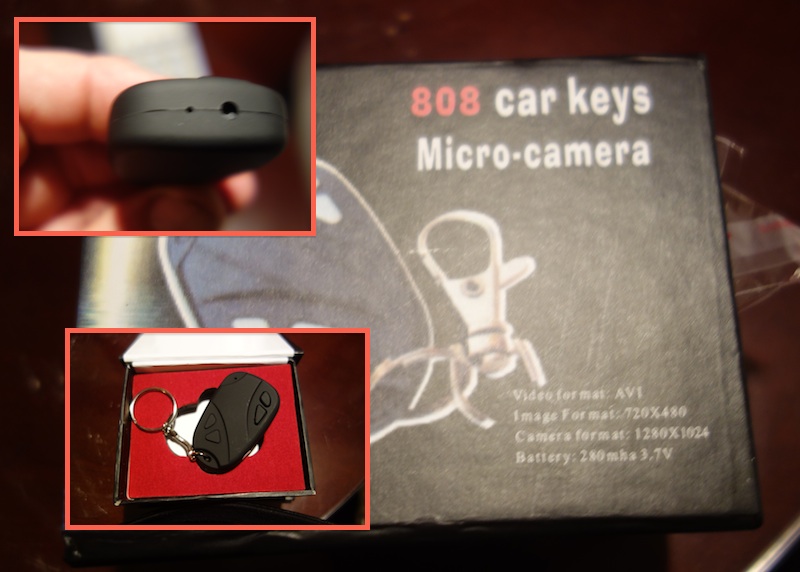 This fake auto remote control contains a camera and microphone. It can be left anywhere and will record non-stop for 24 hours.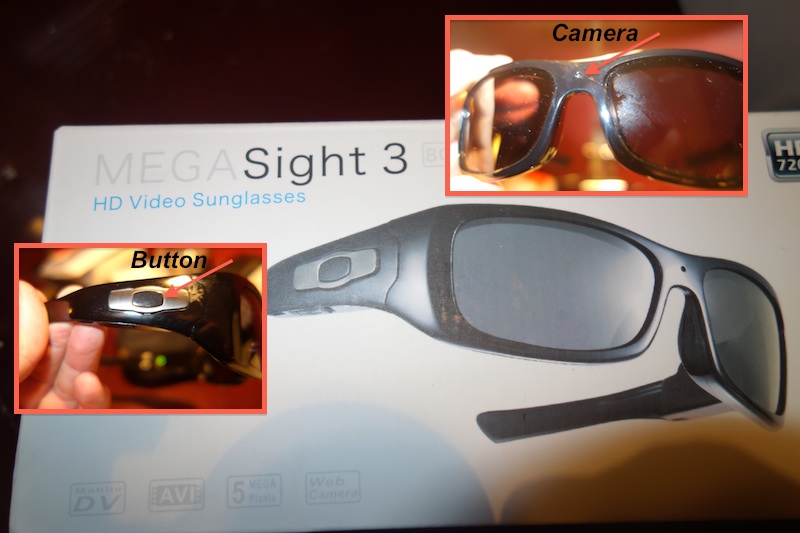 These polarized sunglasses will record everything that the wearer looks at, with audio. Their potential applications are obvious. They are activated by pussing the logo on the side. It is actually a button.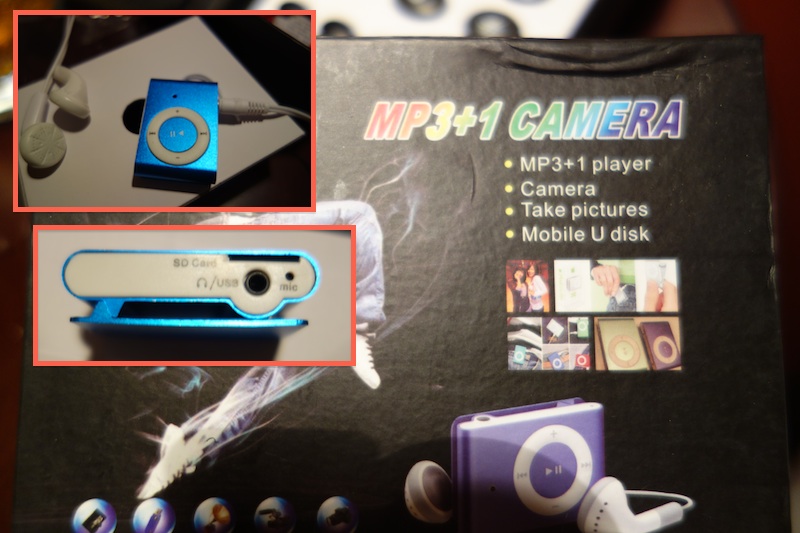 This MP3 player looks and acts like any MP3 player. it has a video camera and an audio recorder.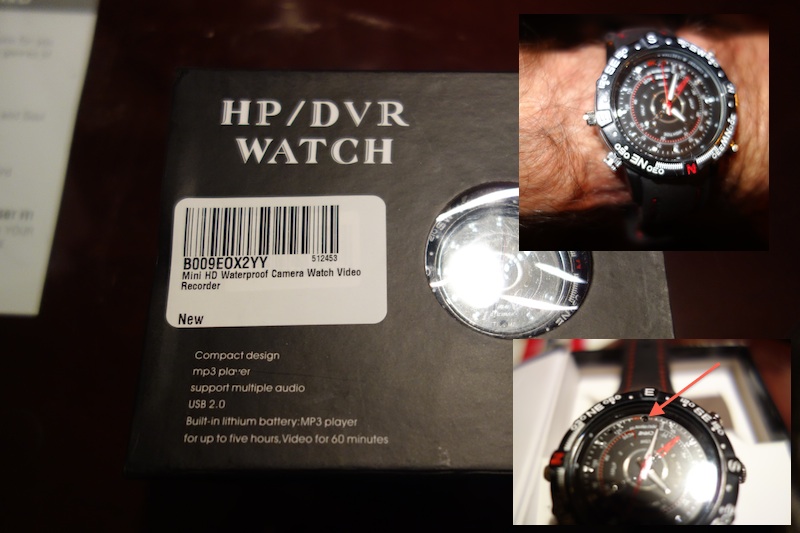 This waterproof wristwatch contains a video camera with audio. It is activated by a button on the side. It will only record a total of one hour, but it is useful in recording events on boats, in water, etc.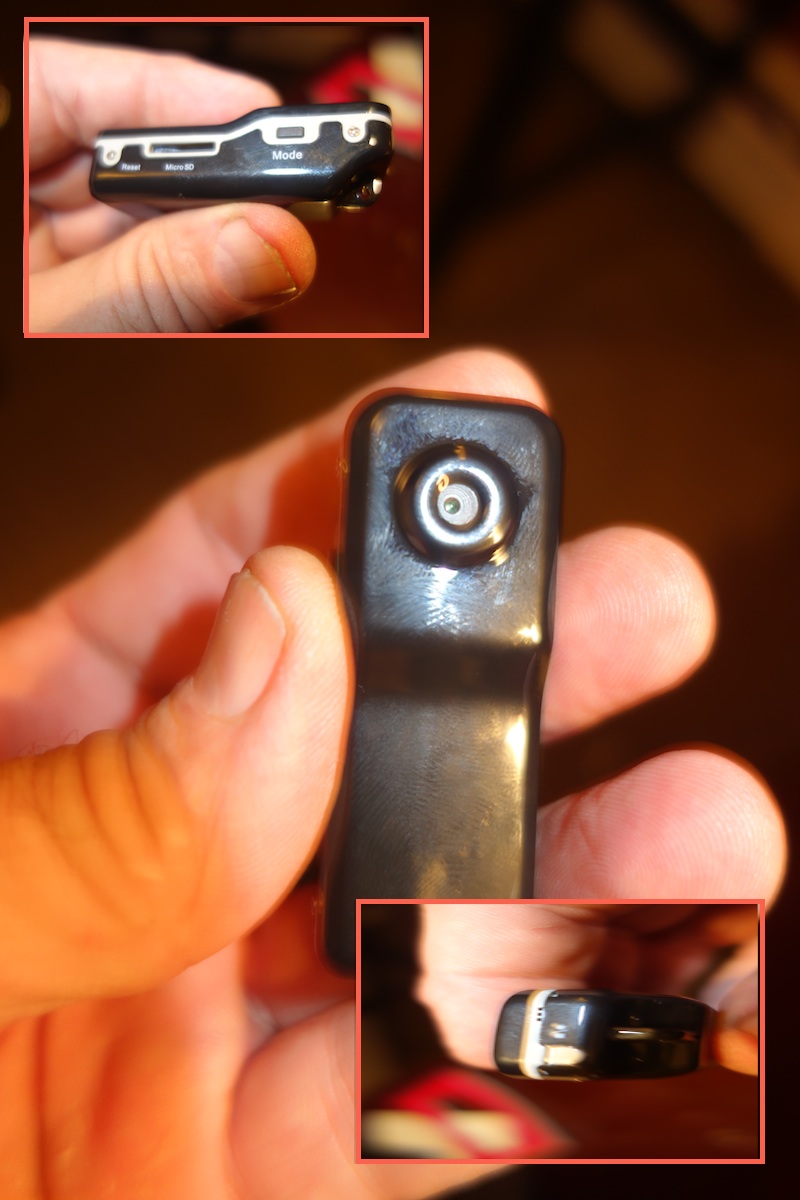 This mini recorder will record many days of video and audio. I can be inserted into anything. We purchased these recorders by the hundreds: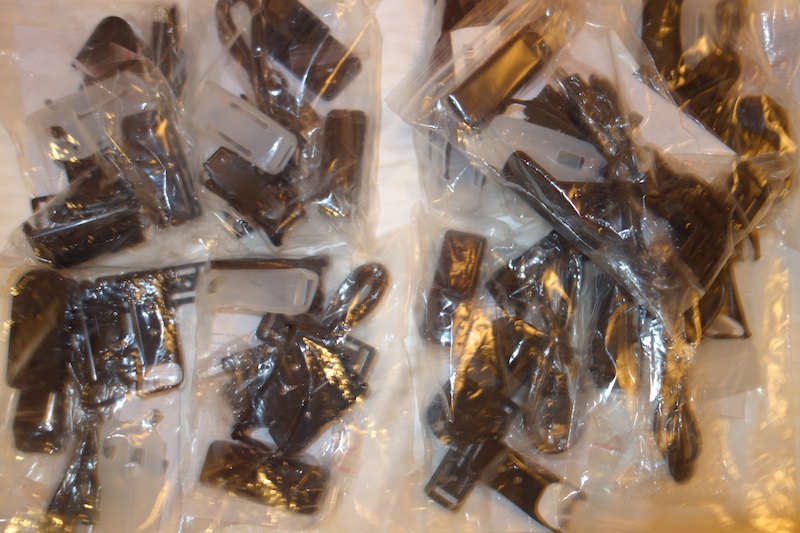 Here is Nicky wearing the video sunglasses and holding her two favorite items: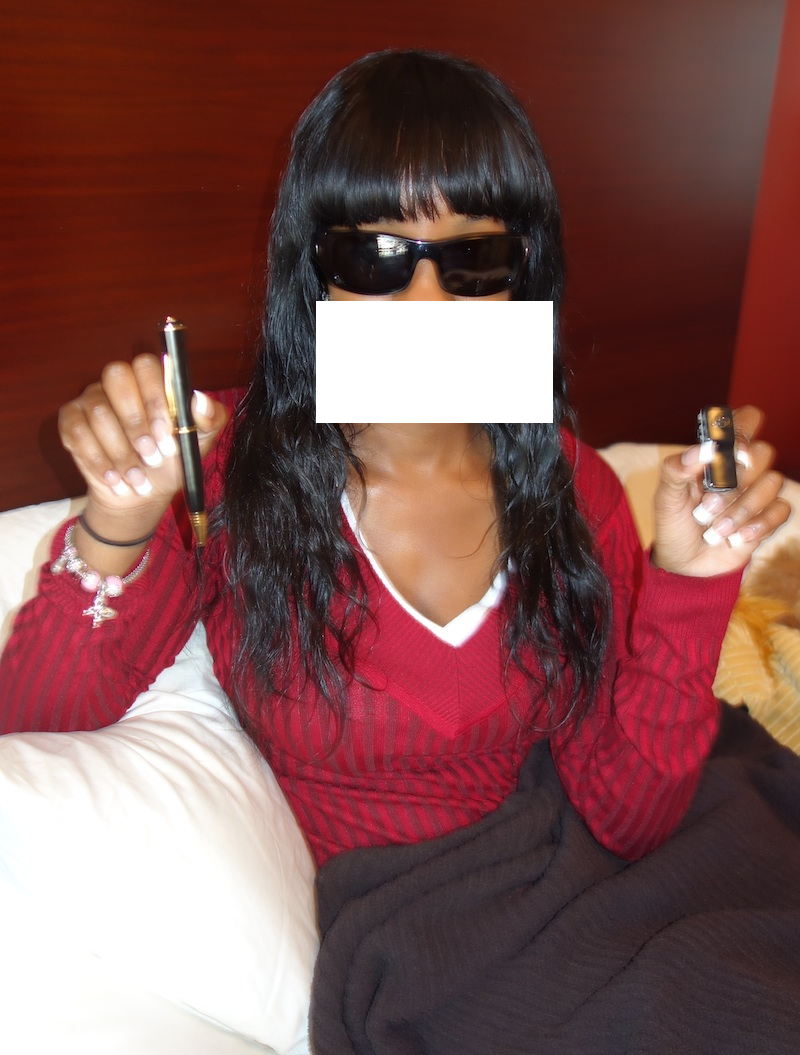 The second half of part two is coming. Sorry it's so long.