By: Harold M
I am reposting an older post of Mr. McAfee's and have added additional data from the files as supporting evidence.  I am doing this because I feel it is necessary to dispel certain pre-disposed attitudes in the mind of the press and the public before a proper understanding of events can occur.
The Government has portrayed Mr. Mcafee as paranoid.  So has the press.  "Why armed guards?" is the government's question.  "What on earth does he have to be afraid of.  Belize is a safe country and no-one needs to be afraid of anything". " Mr. McAfee is bonkers", declared the Prime Minister.  Mr. McAfee has declared otherwise. You must decide, in this first series of posts , where the truth lies.  The previous post gave evidence of danger on the mainland.  This one will give evidence of danger on the island of San Pedro, where Mr. McAfee also has residences.
Here is the original post with my added data:
__________________________________________________
Approximately two months ago Mr. McAfee left his house, by boat, to go spend the night at his condo (Ocean Aire) about four miles south of his primary residence. He frequently changed his location because he felt threatened and believed it was safer if few people knew his whereabouts.  As he was leaving Mr. McAfee watched one of his security guards on the dock take out his phone and make a call while watching Mr. McAfee's departure intently.  He became suspicious.  Instead of going directly to the condo, Mr. McAfee hung out in the boat at sea for an hour or so and then went to the condo.  When he arrived the security guard at the condo came immediately to the boat in an nervous fashion and told Mr. McAfee that a creole man in a golf cart had arrived about an hour earlier and demanded to talk to Mr. McAfee.  When the guard said that he was not home, the man became agitated.  He insisted that Mr. McAfee was really home and demanded to see for himself.  It was only the intervention of the neighbor living below Mr. McAfee – Keith and Barbara Hoffman –  that convinced the man to leave.
The following day Mr. McAfee received an email from the neighbors downstairs.  They had awoken to find a letter under their door.  This is the email:
John
There was a letter on our door this morning that I think needs your attention it's very threatening, I know know why you have security! It's from Swan? At the least I think you should let the police know! He wants money…Please advise what you want to do.   xxx xxxx (Phone number blanked out)
Keith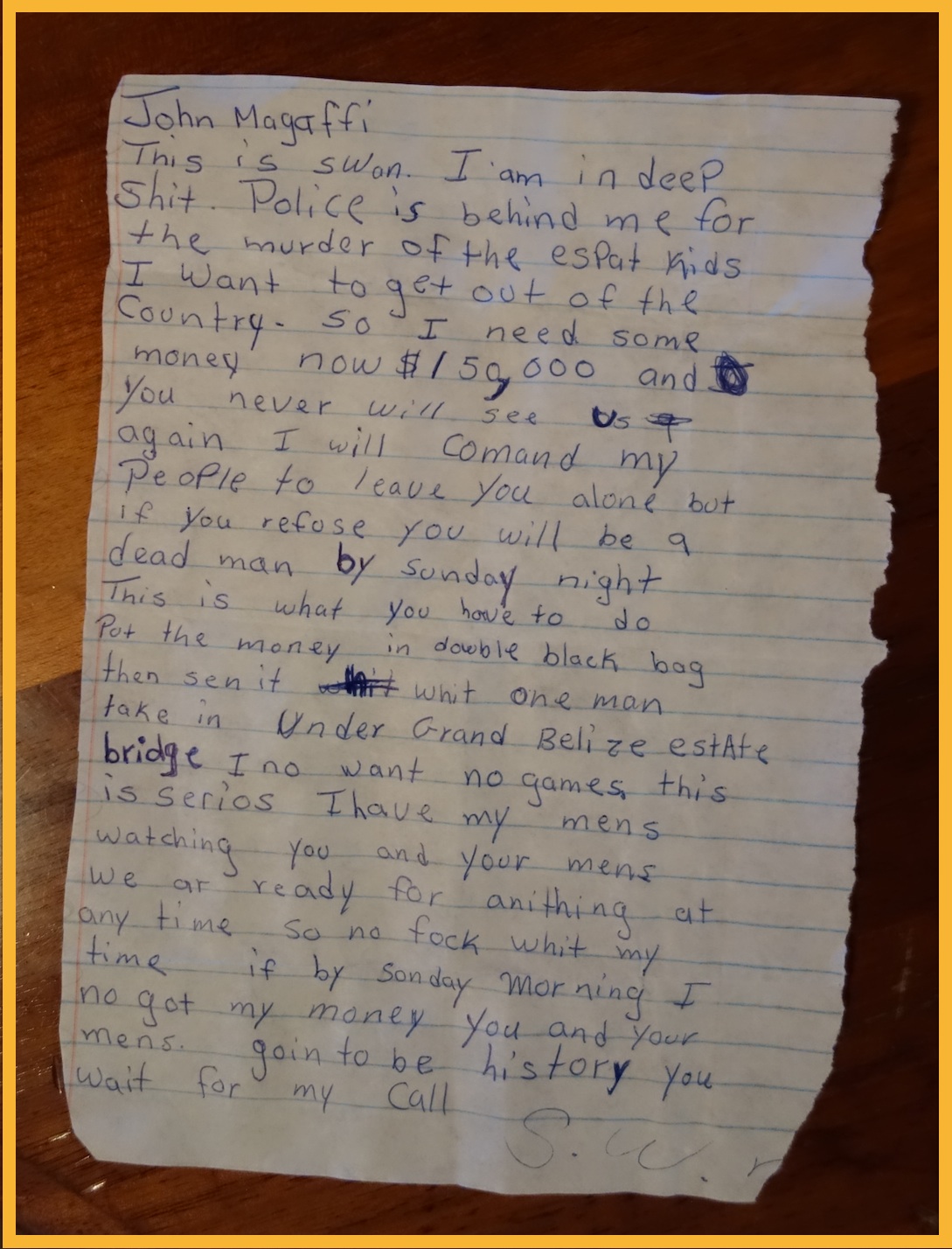 Mr. McAfee did not go to the police for reasons tht will become clear in my subsequent posts.  He instead hired a private investigator.  Mr. McAfee and the investigator went and spoke with the Hoffmanss, who seemed genuinely afraid.  The investigator calmed them somewhat and then immediately went to Mr. McAfee's primary residence.  He held a meeting with every employee and every guard.  He took mug shots of them, copied their IDs, and then made them all copy the letter in their own handwriting: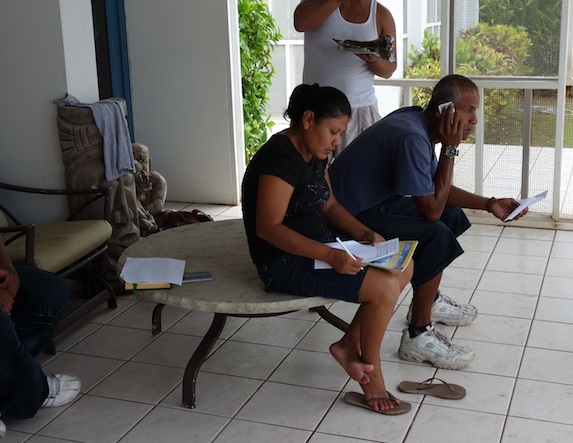 He then compared each copied letter with the original: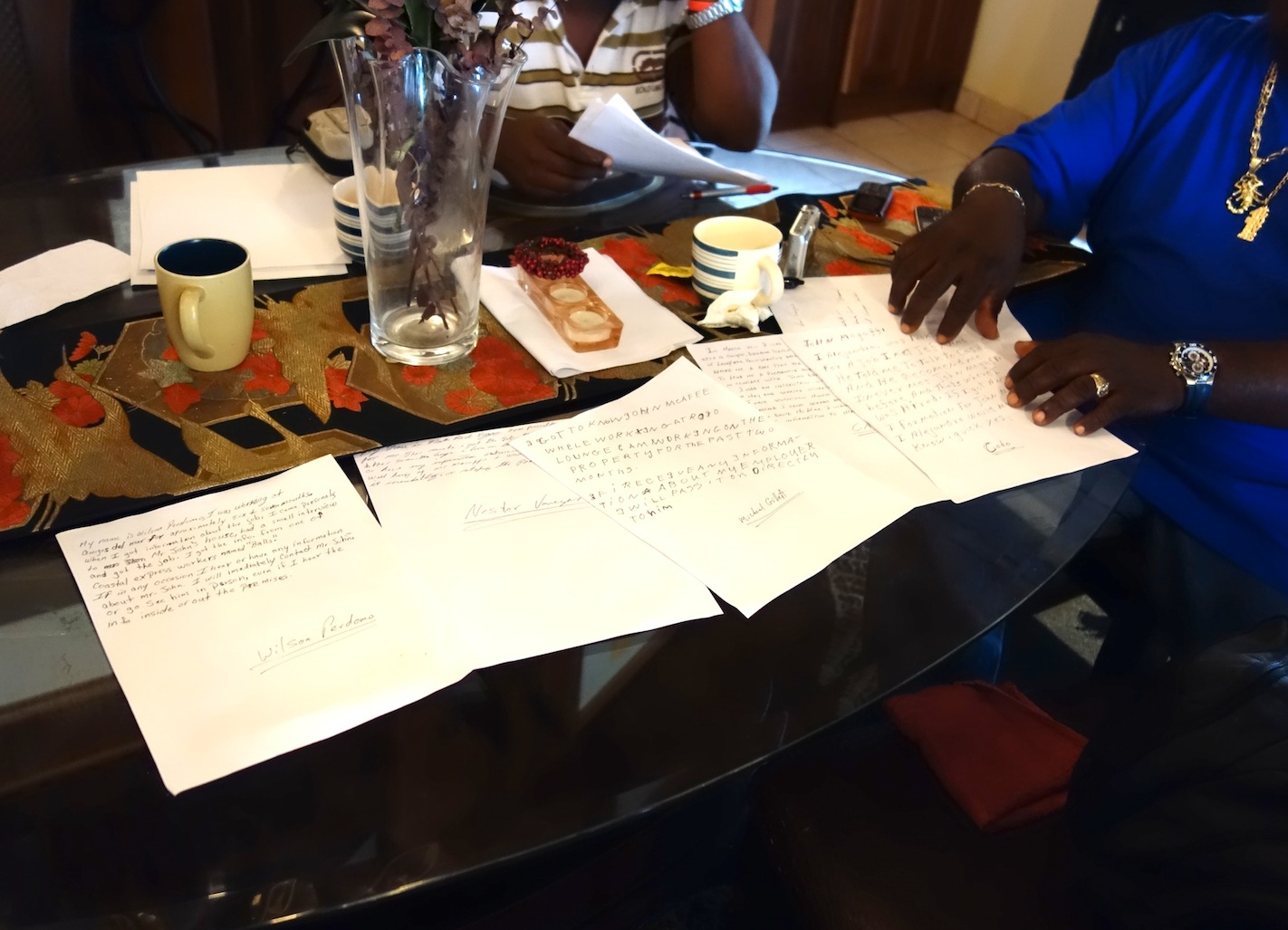 Mr. McAfee also submitted a sample of his own handwriting for the records.  There were no matches found.
Mr. McAfee immediately fired the security guard who had intently watched him leave the dock.  Mr. McAfee believed that the guard was in collusion with the creole man who arrived at the condo expecting Mr. McAfee to have been home.  Mr. McAfee's hour wait in the boat before arrival prevented the creole man from meeting him, he believed.
This event occurred two weeks before the attempted raid on Mr. McAfee's home that was detailed in Mr. McAfee's post "The Raid of October 15th".  I will be reposting that report as well, and I will include supporting documentation.  My next post, in a few hours, will begin the much longer series of events that began with Mr. McAfee's introduction to a young woman named Marcia Novello.  All the evidence in this first series of posts is to point ot the absurdity of everyone's claim that Mr. McAfee is paranoid.  The evidence should clearly show that anyone in similar circumstances would have behaved the same.
My subsequent posts will show the link to the Government of Belize.  For further background:
Before Marcia was introduced to Mr. McAfee, she was having an affair with a married Coast guard Captain, who I will currently refer to as captain B.  Captain B and Mr. K had arranged for a number of meetings between Marcia and some notorious gangsters in Belize City to discuss the unfolding plot to kidnap, and possibly kill, Mr. McAfee.  One of those gangsters was a man named James Swan.  He was the Cousin of Eric Swan, the purported author of the above letter.  James Swan was shot and killed in Corozal, a month or so prior to the delivery of the letter.
While we are in a lull, remember that John is sitting in a Guatemalan prison awaiting extradition back to Belize.  Your emails helped release his friends.  How about doing the same for him.  If Belize no longer insists on his return, then the Guatemalan Government will let himcome home.  Here are the addresses, bot of the Guatemalan President, and Belize
In addition Venezuela has a huge sway over affairs in Cemtral America: