By: Harold M
Mr. McAfee finally confronted Marcia on July 27th and demaded to know the truth. When she was presented with undeniable evidence she confessed to everything. John considered his options, which were limited. He could not go to the police, since, as you will later see, police officers were involved in the plot and any report would alert the officers or cause Mr. McAfee's immediate arrest. He chose to attempt to meet with Eric and James Swan and present them with the evidence that he had collected, and then see what played out. As luck would have it, Chad Essley was in Belize with john at the time and he witnessed many of the events that I will reveal. (He even drew cartoons of some of them).
John chose notorious ganster Eddie McKoy as a go between to try to arrange a meeting with the Swans. More than a year previously, Eddie had been hired by someone to kill Mr. McAfee (yes, it gets stranger) and during an epic meeting at a coffee shop in San Pedro Between Mr. McAfee and Mr. McKoy, Eddie decided to drop his contract with the man who hired him. (This story is coming very soon. The meeting is well known in San Pedro and was witnessed by dozens of people, including the entire coffe shop staff, Eddie Ancona, and three police officers, one of whom was Sgt. Dominguez, a well respected officer and, at the time, third in comand of the San Pedro Police Department.)
John and Eddie, in the intervening year, developed a cautious, mistrustful acquaintance. (Mr. McAfee apparently forgave Eddie to the point that on October 21st, when Eddie was attacked by a gangster in Dangriga who attempted to kill him with a sledgehammer, Mr. McAfee sent his Orange Walk property manager – Noel Codd – to Dangriga to have him driven to Belize City for hospitalization.)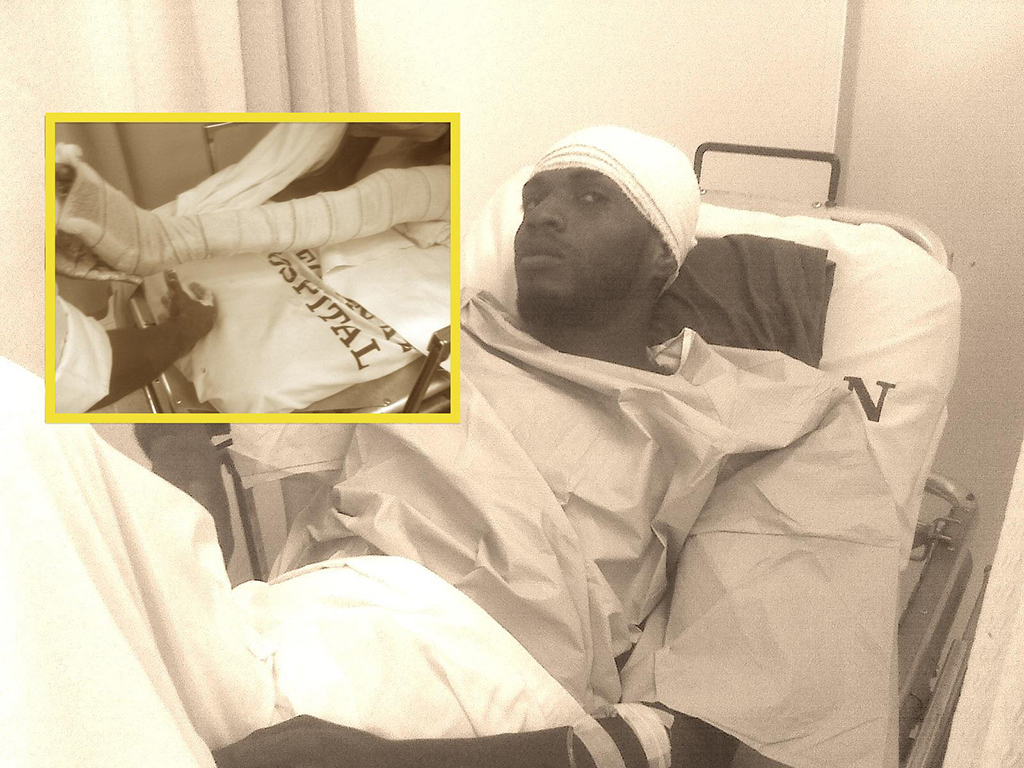 Since Mr. McAfee knew of no other avenue, he asked Eddie to arrange the meeting with Mr. Swan. Swan eventually agreed and the meeting was held at the Bluewater Grill in San Pedro on August 3rd.
This meeting also was witnessed by dozens of people – Amy Chawla, Amy Herbert (Mr. McAfee's past girlfriend), Chad Essley, Amy's new boyfreind, John's bodyguard, Eddie Ancona (who was just released from Jail yesterday – thank you all) and uncountable armed gansters in the background that Swan had arranged as protection.
In the meeting Mr. McAfee again convinced his opponent to personally back off. Swan said, however, "They will still get you".
After the meeting, Mr. McAfee had a long talk with Marcia. In the end, John forgave her and Marcia remained with him. "Everyone makes mistakes" he said.
In the next file post I will disclose the involvement of Captain B and Mr. Koy and open the door to the larger story.
Here is the drawing Chad Essley did of the meeting. It is Mr. McAfee and Eric Swan. Early into the meeting Mr. McAfee asked James Swan to go to another table. He was agitated.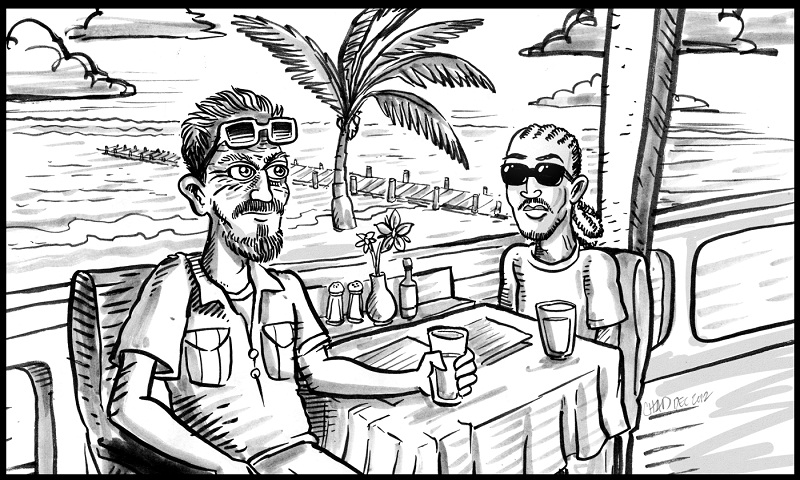 While we are in a lull, remember that John is sitting in a Guatemalan prison awaiting extradition back to Belize. Your emails helped release his friends. How about doing the same for him. If Belize no longer insists on his return, then the Guatemalan Government will let himcome home. Here are the addresses, bot of the Guatemalan President, and Belize
In addition Venezuela has a huge sway over affairs in Cemtral America: