I had spoken to Josh Davis many times before he came to Belize.  He had contacted me about doing a story on the April GSU raid on my property.  I told him I was tired of personality pieces and was looking for a journalist willing to do a story on the abuses of the current government here in Belize.  He assured me that the story would focus on the Government and political situation.  When he arrived, his story had warped somewhat to "We'll see how the story evolves."
My radar immediately sounded an alarm, but, what the heck, he was already here.  There were two possible outcomes:
1.  He does a great job of reporting on the runaway corruption here and I get bto relax.  or:
2.  This is yet one more personality piece and I have to use him as a springboard to tell the story myself.
If it turned out to be option two I had the advantage.  I was older and a bit more experienced.  I also have a lot of free time.
The free time allowed me to start writing my story before he even began his research.  (You do not seriously believe that a man on the run could do even the photo-editing of some of the pieces in here?).
It turns out that the second possibility was the true one.  Josh's piece is entirely a personality piece.  It is about my paranoia, my relationships, my past, my actions.  It features sensationaist photos and disregards the thousands of normal photos taken by the photographer.  It tells a shadowy tale of me, and disregards the mountain of evidence (only the tip of which has been divulged recently in this blog) of real threats, real corruption, real poverty, real suffering.
It is up to me now to disclose the corruption.  The last photo Josh and I took together: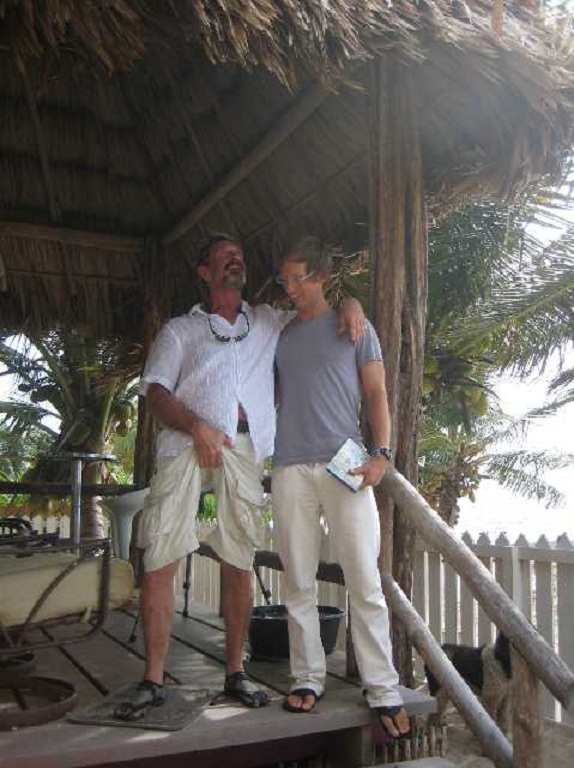 ___________________________________________________________________________________________________
Three of my friends are still being held in prison on trumped up charges.  They are:
Eddie Ancona
Cassian  Chavarria
William Mulligan
 They were charged and have been imprisoned because three legally licensed firearms were found in the incorrect rooms on my property (stretching the law to the extreme).  I would ask you to please email the following and demand their release: